Description
Alchemical Fire Attunement
The attunementsthat we offer on this page are initiations for people interested in energy, vibrational therapies. You may or may not be a dowser. In the case of dowsers, these attunements help to connect with the vibration of the initiation in such a way as to enhance access to these vibrations and the actions that can be performed in dowsing by combining pendulum work with that of initiations.
If you are not a dowser and you work with your hands for example in physical or energy massage sessions, you can also work with these attunements by channeling their vibrations through your hands, your eyes, your aura.
Alchemical Fire
The Alchemical Fire of this initiation is pure spiritual fire that will allow us to cleanse, purify, transform, alchemize what we focus on to free it from dense adhesions, oppressive structures, non-beneficial cords or connections and facilitate that in which let us work to raise its vibrational frequency until it reaches its original perfect pattern as originally devised by Source.
Uses of the attunement:
In aura cleanses
In Space Clearings
In cleaning objects, glass etc.
In works of internal alchemy transmuting alchemizing elements, aspects of us
Elevation of consciousness
Spiritual reconnection with the Source
Empowering the sacred Element of fire when and where necessary
Harmonize our relationships by liberating what oppresses us
Others: use your intuition to give it more uses.
Attunement process:
The initiation is generally celebrated in less than 48 hours from the moment of purchase of the product. Be careful to write your email well so that we can locate you and check your SPAM folder. We need the person's full name and two surnames, date of birth. If the name of the diploma is different, write us that in the NOTES section in the shopping cart.
The initiation is usually held from 10 a.m. to 11 a.m. in Madrid Spain. You do not need to be aware of the initiation. It will be transmitted to you and when you can sit down to receive it, simply with the instructions included in the manual you can activate it.
The attunement is facilitated by Barbara Meneses
PRODUCT DETAILS
Attunement transmitted in the distance in general in less than 48 hours after the purchase, depending on holidays.
Manual in English PDF 8 pages A4 format.
Diploma in PDF
We need: Name two surnames date of birth of the person to initiate unless you indicate otherwise, we will use that name for the Diploma.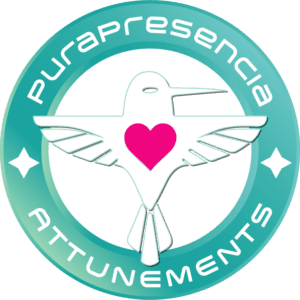 An original Pura Presencia ™ product created with full love and conscience for the highest good of all.