Description
Archangel  Gabriel radionic disc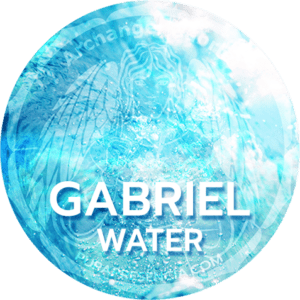 The radionic disc has visible and non-visible elements that help us to transmit the vibrational frequency and the spiritual essence of the properties of the Archangel Saint Gabriel, namely:
His ability to provide God's strength
His ability to bring the Good News, the Annunciation, the Revelations, the spiritual messages relevant to our journey, our mission
His ability to inspire us because according to Essene wisdom, Gabriel is connected with the Water element, feeling, the emotional body … sensitivity
His ability to elevate our emotions in such a way that we don't get trapped by them or make us sick.
His ability to cleanse the internal and external waters according to Essene wisdom
His ability to initiate, to open paths to a new conception, a new creation.
His ability to promote divine communication, the link between worlds, spiritual messages.
Uses of the radionic disc
To balance, protect, raise the frequency of spaces where we prove that its presence is necessary
To strengthen the presence of the Archangel Saint Gabriel and his beneficial influence in our lives
To protect our dowsing tools when we rest them on the disk for a time determined by testing
To infuse flower remedies, oils, auric sprays etc.
To enhance the beneficial influence of the Archangel on people working with witness paper as we have learned to do so
To meditate on the presence of the Archangel and his spiritual and healing qualities
To connect with the divine qualities of God that the Archangel Saint Gabriel reflects to us.
To harmonize the water element according to the Essene tradition
In combination with the discs of the Archangels: Michael, Raphael and Uriel it can generate a powerful protection in space and open a spiritual field for the Essene, Christic, luminous practice.
And much more, use your inspiration to give the album new uses
PRODUCT DETAILS
Transparent etched methacrylate disc engraved with Archangel Gabriel (there can be differences from the image shown, newer versions can reflect slight differences due to improvements).
13cm diameter by 0.5cm wide
Possibility to tune it to its future owner. Write us in NOTES the name and date of birth of its future owner. If you do not write it to us, we understand that you do not want the tuned album.
NOTE ON METHACRYLATE Due to the nature of methacrylate, you may find micro scratches on it that do not affect the effectiveness of the disc.
Important: Disc does NOT include wooden base  no longer available.

Made by Pura Presencia ™ individually by conscious and loving hands in the utmost respect