Description
Archangel Uriel radionic disc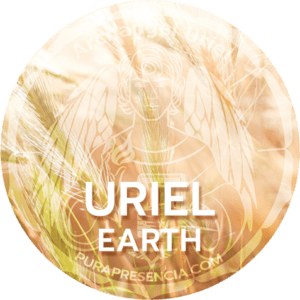 In the Essene Tradition, Archangel Uriel ("God is my Light", "Fire of God") has been associated with the Earth element, the internal and external earth where to plant the seed of Light that will later grow if we are able to care for it and water it. with our love and our conscious attention. In this sense, Uriel is also a guardian of essential and Universal Wisdom. In the Judeo-Christian tradition, Uriel has been associated with the Solar Logos, the Solar Intelligence. Uriel has been associated with the Cherubim and Seraphim. In the Essene schools of wisdom, Uriel´s energy corresponds to the Summer season.
In ancient Hebrew traditions, Uriel provided protection in homes and is considered a Savior figure (Saving Saint John as a baby)
The radionic disk has visible and non-visible elements that help us to connect with Archangel Uriel and his properties and virtues.
We can benefit from the radionic disc to:
Meditate on the figure of the Archangel and his connection with the Source as well as his qualities
Charge herbal remedies, flowers, crystals with the most beneficial energies of Uriel
Work in a radionic or teleradiesthesia way with witness papers, empowering and helping projects through Uriel's energy
In harmonizing spaces to enhance the Earth element and the Wisdom of Light in our spaces, homes, places of work and study
Establish an Archangelic protection by combining this disc with the radionic discs of the archangels Michael, Gabriel, Raphael.
Use your imagination to give it new uses.
PRODUCT DETAILS
Transparent methacrylate disc recorded on the disc comes with the Archangel Uriel in English.
13cm diameter by 0.5cm wide
Possibility to attune it to its future owner. Write us in NOTES the name and date of birth of its future owner. If you do not write it to us, we understand that you do not want the tuned album.
NOTE ON METHACRYLATE Due to the nature of methacrylate, you may find micro scratches on it that do not affect the effectiveness of the disc.
Important: Disc does NOT include wooden base  no longer available.

-Made by Pura Presencia with conscious loving hands-