Description
Arigato, the Gratitude Disc
Abundance, prosperity, health, flourishing relationships all comes with a grateful heart.
The Arigato radionic disc helps us infuse and connect with the vibration of Gratitude so that everything that we place over the disc received the inflow and outflow of gratitude. This has been one of the best kept secrets of many Japanese millionaires such as Ken Honda, who made his fortune always keeping in mind the Gratitude Principle in all is interactions.
If Gratitude was located in the Hawkings consciousness scale, it would hold one of the highest vibrational "positions" much higher than Enlightenment such is the power and healing potency of Gratitude.
Properties of the radionic Disc:
Helps connect us to the vibration of Gratitude
Helps clear and uplift our spaces with the radiation of Gratitude.
Helps us infuse crystals, stones, flower remedies, herbs, oils with the radiation of Gratitude
In massage we can place the disc over areas of the body and energy field where the person needs the infusion of gratitude
In Sound bath (with singing bowls) we can place the bowl over the disc and tune into the power of Gratitude as we perform a sound massage or a concert.
Use your intuition for more uses for the discs.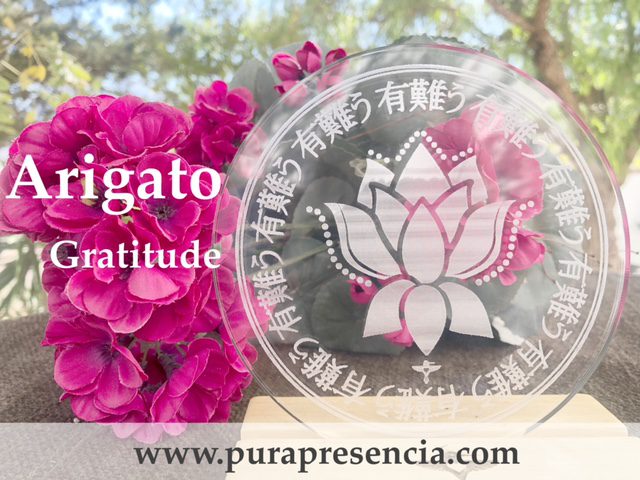 Attunement of the Disc
We offer the possibility of attuning the radionic disc to its new owner, write us in the NOTES section in the shopping cart your name, surname and date of birth.
PRODUCT DETAILS
Translucid Methacrylate disc engraved one by one with focus and awareness
(Allow imperfections due to minor scratches of the methacrylate, unavoidable this does NOT change the energy properties of the disc).
Size: 13cm diameter and 0.5 cm width
Possibility to attuning the disc to its owner (write us in NOTES when making the purchase your name, surname, date of birth) we usually send fast if you do not write us this we will send you the disc without attuning. (This is optional, an offer)
Important: Disc does NOT include wooden base which can be purchased separatedly

A Pura Presencia™  product made one by one with Love and Conscious Intent for the highest good of all