Description
Atlantis Pendulum brass
This is the brass and pendulum  version of our Atlantis Gold and Silver Pendants. This gorgious pendulum comes in the shape of a pendulum with a single cord. You can change the cord and transform it in a pendant/necklace and wear it as a protection.
This pendulum was created by BAJ in honor of the Atlantis ring found in Egypt by the French Egyptologist, the Marquis d´Agrain in 1860.
It has the same properties as the Atlantis pendants, namely protective properties in a similar fashion to the Atlantis ring, and also it is radiating the radiesthetic color white. Its pointy end makes it a very useful pendulum for map-dowsing and other searches which require precision when pointing at a target.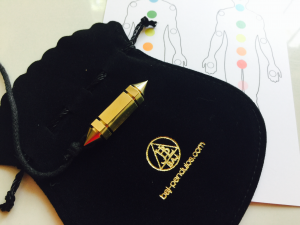 You can create a very strong protective field around yourself, your beloved ones, your home, car, and objects when you combine your intention with the shape of this pendulum.
Product details:
This pendulum is NOT sold with a leather pouch but with a gift anteline pouch as seen in the photo or similar.
Weight: 20-30 grams
Heigth: 42mm aprox