Description
ATTUNEMENT HEALING ROSES  
The Healing Roses of Mary are powerful spiritual forces of the highest order coming from the Divine Feminine, to help us cleanse and purify ourselves in depth as well as to heal (for legal purposes in the spiritual, energetic, vibratory sense and NOT medical) the Soul, our subtle bodies and the physical vessel when it has been affected by subtle, energetic conditions that require working with the Roses.
The attunement is accompanied by a PDF Manual with instructions for use in the context of energy therapy, dowsing, self-treatment as well as a  Diploma also in PDF.
Synergy with Roses Pendulum
This attunement is excellently complemented and works creating a great synergy with the Roses Pendulum, mutually enhancing each other by working together.
This attunement and the proposed work can serve to heal the heart on an emotional and spiritual level. With it, we enhance our connection with Source, the benevolent and loving Source of All That Is that some call "God" and others simply "Source".
You do not need to be a Dowsing practitioner to receive this attunement, you can work with it without pendulums.
You can find more about your facilitator transmitting this attunement
Legal Notice: These attunements and all the products in our store DO NOT replace the medical, psychological care required by those who have a clinical condition. It is purely energy and spiritual support.
PLEASE NOTE:
These attunements are purely spiritual-energetic-vibrational transmissions.They are NOT a course in Dowsing or a Course in Energy therapies on how to channel energies, transmit energies. We understand that those booking these attunements already have an understanding of what an energetic transmission-attunement is and what they can do with it.
If you need further clarifications after booking an Attunement, you can book a 30 min mentoring session with us on this LINK.
PRODUCT DETAILS
Attunement at the distance held approximately 48h after the purchase butoften times before. We need the person's full name and date of birth, write it in NOTES when making the purchase.
Small PDF Manual with instructions on how to work with the attunement
Diploma in PDF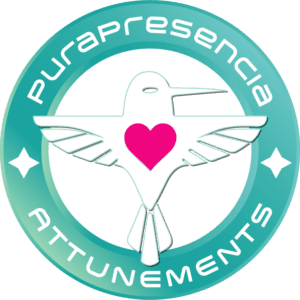 An original Pura Presencia ™ product created with full love and conscience for the highest good of all.