Description
General session
What is a Bioenergetic Session?
Our energy fields play a very important part in keeping us healthy mentally, emotionally and physically. These fields are highly sensitive and can easily get out of balance in our daily lives depending on the food we eat, drinks, lifestyle, the pollution and geopathic stress around us, our workplace,  our relationships , our ancestors, our genealogical and past history, and cosmic radiations.
Through the Bioenergetic Realignment process, we detect sources of imbalance. We dialogue with your energy field to find out which are the solutions that YOU require and are more compatible with you, to restore your equilibrium. We replenish and nurture your energy reserves and enhance your energy management efficiency. This is a solution focused modality.

A bioenergetic (realignment) session is an Energy Medicine intervention performed on the energy field of a human being, an animal or a living space in order to restore perfect balance, equilibrium and well being. The realignment is done using a wide range of remedies amongst them the Authentic Cymatic frequencies of Sir Guy Peter Manners (more than 600 frequencies addressing the needs of different layers and levels of our being), a series of deep intervention protocols and employing the Lecher Antenna, a very precise device, that reads energy fields at the most subtle level.
Any living organism has a series of fields around them that can get out of balance due to the current state of the world with pollution, the bombardment of all varieties of technological and cosmic radiations, the degradation of our health, by means of our food intake and our mental and emotional habbits etc, the homes in which we live disconnected from Nature, and our very personal circumstances.
This modality looks to detect, diagnose and resolve all the misalignments in our fields to restore our perfect balance. Any imbalance within our fields closes our energy centers down and affect the cellular functions of our system, harming the basic or prime chords of their functionality which are: the structure and form, elimination, communication, regeneration and vitality. When any of these chords get out of balance as a result of any negative impact upon our energy fields, we enter into a negative spiral of degeneration at the most subtle and energetic cellular level. When unattended for too long, these imbalances at the energy level of our being, can eventually filter into our physical dimension and manifest in the form of the worsening of our health condition, be it physically, mentally, emotionally and eventually spiritually.
What is the Lecher Antenna?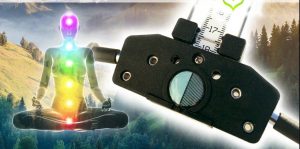 With the Lecher Antenna we can dialogue with your different energy fields
The Lecher Antenna, derives its name from Ernst Lecher, a Austrian Physicist, head of the first Institute of Physics in Vienna who developed the Lecher lines or wires, to measure wavelengths and the frequencies of electromagnetic waves.
We work with the Acmos Lecher Antenna which we consider for now to be the most reliable antenna in terms of its high sensitivity, precision and quality. This antenna measures the balance of organic energy at different levels. It can determine the degree in which a product is compatible with the different layers of your bioenergetic fields, your level of balance with respect to places, situations, relationships, systems, organizations, amongst others.
Another way to look at the Lecher Antenna would be that it is a device that allows us to dialogue with your energy field and its different layers in order to detect imbalances and their causes, and thus find out the most appropriate and personalized solutions that you require to return to perfect equilibrium. Thus, these sessions are highly personalized and unique to each individual, for what may be good to one person may be toxic for another one.
The protocols
Currently, we are working with several in-depth protocols covering a wide range of possible areas of intervention and energetic measurements, these are some of them:
. The General Protocol commonly selected area of purely energetic intervention.
.The Environmental Protocol covers all the field of geopathic aggressions, relational incompatibility, habitat imbalances.
. Support Protocol for clients currently undergoing some life challenges.
.Deep Protocol: a protocol to move in depth into the energetic causes of some of our mental and emotional challenges.
.DNA pure potential protocol:a protocol designed to enhance our human potential.
-Light Body protocol
-Ancestral protocol
-Energy cleanse protocol
-Akashic protocol
-Ascension  and multidimension protocol
-Feminine protocol: women´s issues, life stages
-Relationships protocol
.The Genealogy Protocol: to support the energetic healing of our genealogical tree and the enhancement of our systemic balance in the heart of our family.
The Solutions
We work with a series of bioenergetic solutions such as the authentic Cymatic frequencies, that cover a wide range of areas and levels of intervention. Other solutions belong to the fields of chromo-biology (colors supporting the energetics of our biology), essential oils of the highest grades, the Lecher Antenna which is not only a device for detecting energy imbalances but also its a tool for energetic intervention. With the Lecher Antenna there is a wide range of possible interventions that can enhance the quality of our sessions, from removing energetically negative memories in our cells to lifting an imprint affecting us from an ancestor for instance. Energetic acupuncture may also be required on the meridian system of our energy field to support, enhance and stabilize the overall balance of the client´s energy fields.
Other:
The list of solutions is very extensive but these are the main solutions required by most of our clients. This being a multidisciplinary modality, we are open to including other solutions when requested during a session. This could include: Vibrational frequencies, Energy Psychology interventions and Coaching Techniques.
Different sessions, different possibilities
Personal
-Global balance: You might want a session to keep your fields in check and your energy reserves fully topped up.
Relationship harmonization
-You might want to balance yourself and your life partner in order to enhance your relationship and remove any aggression within the relationship or energy leaks between the two of you. Energy fields will try to meet their needs wherever they can. This is not a form of vampirism but in a sense when someone is unable to meet his vibrational needs he will search for it in someone else. To be balanced as a couple is a great way to keep a healthy and safe energetic boundary while at the same time improve the quality of the relationship.
Habitat and workplace harmonization
-You might want to balance your personal living or working space.
Life Path, Career, Project harmonization
-You may have a project in mind and want to check out what is the level of compatibility and harmony between yourself and the project.
Home and location compatibility
-If you are planning to buy a new house but are unsure of its degree of compatibility between you, your family and the house.
Genealogical and systemic harmonization
– You want to explore the state of your family tree on a systemic and energetic level. Are all the members of your family well placed on the tree? How toxic is this tree for its members?
Human potential expansion
-You want to expand your personal horizons and boundaries and need assistance to take the first steps.
Even the sky is not the limit with this highly exciting modality. We are each day learning, developing and making new discoveries in the field.
Summary:
This modality balances your different fields to ensure that your system has all the energy it needs to deal with your current life situation. The solutions we access are found by dialoguing with your energy field by means of the Lecher Antenna. We work with a wide range of protocols that address all human needs: from the psychological point of view, to the environmental, geobiological, to the ancestral, genealogic and expansion of human potential.
The Bioenergetic Realignment replenishes your energy reserves to its fullest capacity, at the highest level that your system can take at a given moment. This will ensure that you are able to manage optimally your present life situation.
In an ideal state, a healthy person would only need 4  Bioenergetic realignment sessions per year, as we enter the different seasonal periods. In practical terms, we have found that the average person might need at least one balance per month in order to keep aligned with his or her energies at their optimum levels.
The sessions are conducted either in person in Antequera (Malaga, Spain) or as a Distance Treatment where practitioner and client do not need to be physically present in the same place for the realignment to be successful.
IMPORTANT
Sessions can only be booked for oneself and not for others without their conscious permission.  If an attempt is made to do otherwise, the session will result in a misreading of no effect.
When working with couples, if one member does not want to be balanced, we can work with the other member to keep him or she balanced IN relation to the other member. This does not violate the other person´s privacy.
TESTIMONIALS:
We are not allowed to reproduce the totality of our testimonials due to legal reasons.
"After only one session, I feel much more energised as the treatment had also a positive cleansing effect . Thank you so much Barbara".
Sabrina Frenzel, Jewelry Designer, Malaga Spain.

Something was holding me down. I had never been challenged with a series of situations to battle for over a month. It was only with Barbara's help, that I found myself immediately turning a corner into wellness again. She worked with me during my night, and would send me audio messages of what she experienced. Barbara worked with me and found more causes to my discomfort, and quickly terminated the issues. As soon as I woke the next morning, I sensed that I was free. The dark clouds that were looming over me causing all kinds of negativity were gone. I felt more like myself than I had in a long long time. I deeply appreciate Barbara's work. She is not only Divinely Guided and Gifted, but also very technical from years spent in study. I believe she steps out of the way of her work, meaning that she puts her ego to the side to listen to her heart's intent, which is to be of service.

I am very grateful to Barbara's help, for she was the one who placed my feet on the road to recovery.

L. S. Energy healer
Ocean Springs, Mississippi
Since I met Barbara many years ago we have had a very good connection. I trust her fully both professionally and personally. This is why when I heard about her work with the Lecher Antenna, we agreed to do a Distance session. Since the very beginning I felt a radical change in my stability, on my center of gravity. I now experience being more balanced, more stable than before and as a few weeks have gone by I am feeling my body more attuned whereas internally, I feel more relaxed and calm, achieving greater levels of mental and emotional balance. Overall, I feel very happy for having received a Distant Bioenergetic Realignment which also demonstrates the power of the loving intention of this wonderful colleague and the effectiveness of Distance treatments in order to bring actual balance to our system. I totally recommend her treatments.
L.G.P Acupuncturist, Castellon (Spain)
I recently had the chance to experience a Bioenergetic Realignment session.  From the begining to the end of the session I felt a big surge of energy flowing through all my body. I felt as if a blockage was being cleared and now I feel much more relaxed and revitalized. I do not come back home from work as tired and exhausted as before. I highly recommend this treatment as I felt a clear improvement to my issues.

E.B  Management, Castellón de la Plana (Spain)
The Lecher Antenna would really help therapists and doctors support their work as it would help them save time and much efforts. It is a pity we cannot access bioenergetic practitionners so easily. My own testimonial is as follows:  in a very complicated moment in my life, I received three sessions from her. I was feeling very nervous, anxious and agitated because I had been interviewed in a video that was going to be launched and I had my fears and performance anxiety about it. In the first of the three sessions I received, I got 90% balanced and cleared. My mind was much clearer and the session helped me a lot. I also felt much more confident about myself.

P.B, Nurse, complementary therapist (Barcelona, Spain).
I felt very tired from work, even experiencing foggy vision… One session with the Lecher Antenna and the Bioenergetic Realignment process and I returned to my normal self. I feel good, I feel more energetic. I do not fail so drained anymore from work.

J.Ruiz, Teacher (Córdoba, Spain)
 I have received several sessions with the Lecher Antenna and the Bioenergetic Realignment process. The sessions gave me in a very short time a great amount of energy and strength.  The session performed for my appartment in Buenos Aires was also very beneficial to clear old stagnant energies clinging onto my living space. I think these treatments do help clear our negative thinking, reduce our daily discomforts.

P.C, Manager Buenos Aires (Argentina)
DISCLAIMER:
We do not diagnose, treat or prescribe any medical treatment or medicinal remedy. This modality is addressing purely the energy dimension of a human being. The bioenergetic realignment process and method should not be construed as a prescription, a promise of benefits, claims of cures, or a guarantee of results to be achieved.
The information, instruction or advice given by the Bioenergetic Realignment Practitioner is not intended to be a substitute for competent professional medical or psychological diagnosis and care. You should NOT discontinue or modify any medication presently being taken pursuant to medical advice without obtaining approval from your healthcare professional.
As a  client, you must take complete responsibility for your own physical health and emotional well-being.
The acceptance of this Disclaimer is a requirement prior to engaging in any session with us.
Upon booking this session you will receive an email with a link to download a client´s intake form. Please fill it and send it to us via email.