Description
Bioenergy tester/ biosensor
This is a bioenergetic biotensor (name has been registered and can´t be used apparently) also called biosensor to test bioenergetic fields in order to perceive the way they behave energetically speaking and to test levels of compatibility or incompatibility between products, remedies and persons, animals, spaces.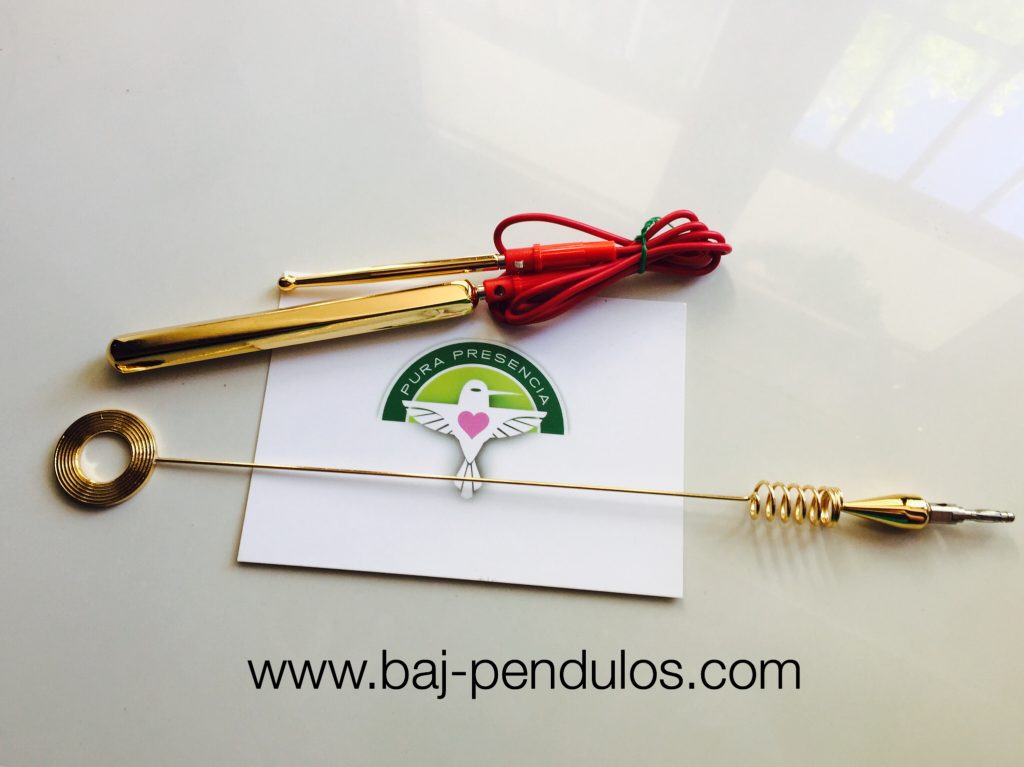 These biosensors have been manufactured (not BAJ) specifically for Baj Pendulos Spain. They are gold plated 24k and have a very high vibration. They are highly responsive and when working transmitting energies and vibrations the power of the transmission is enhanced by the presence of Gold and already high energy of the biosensor.
This tool is just like any other radiesthetic tool. It will appeal to those resonating with dowsing in such a way. A biosensor such as this one has the ability to measure things vertically so it is ideal in field dowsing when wanting to perceive the energy of corners, ceilings of buildings for instance.
When working with meridian lines and pathways, this tool is ideal as we can follow the meridians with the person standing up and locate energetic blockages as we go through the meridian line. Also, we can work very well having our client standing up or sitting in front of us, testing compatibilities between remedies an the client´s energy field.
Uses of the biosensor/ biotester:
Measure anything specially elements in a vertical line
Measure chakras, meridians, energy fields, lines or aura layers
Test compatibilities between people, animals, products, remedies
Transmit waves of information
Test bioenergetic, geobiological solutions in space clearing
And much more
Parts of the biosensor
This biosensor comes with 3 separate parts:
-The rod: to measure and detect energetic fields and energetic responses
-The handle: to hold the biosensor and to connect the cable to the biosensor and the pointer
-The cable and the pointer: used to connect the client to the biosensor or else used to focus over an object being studied
Product details
Biosensor in 3 parts gold plated 24k. The tool comes in a Bambu protective sleeve (folder)
Length of the biosensor fully open: 43cm
The product is sold with a basic instructional document in pdf (not a course).
Care: We do not cover under guarantee the use of the gold plate, please keep the tool in its folder and do not leave it over rough areas to avoid scratches which could damage the gold plating. Clean with a soft tissue with NO abrasive products, ideally simply with a dry soft cloth.