Description
Divine Protection Attunement
This Attunement transmitted at a distance, makes it easier for the recipient to receive SIX different forms of Divine Protection in order to protect their subtle multidimensional field, their living space, pets, objects, food-drinks in six different ways according to their specific need.
These Attunements are for all kinds of people, from Dowsers to people interested in working on an energy level.
For Dowsers, this Attunement can be useful to establish different levels of protection before, during and after the dowsing sessions, both to protect the Dowser as practitioner and his clients, his working tools and the space where he/she works.
The Manual explains in more detail the six types of protection and how to activate them on us, other people, animals, spaces, objects, stones, plants, living spaces and projects.
TESTIMONIAL
"Dear Barbara!! Santa Barbara!!! Santa Barbara,because you do a Great Good for humans!! Thank you,so much both attunements!! You have installed in me,an unshaken and eternal Ligth, which create a new psychic environment.In this Ligth,the Source is present,and this presence help me to face my karma.The Divine Protection attunement,was very powerful, I felt this field to be raised in me.I feel blessed applying this Protection! Divine Grace attunement,was a baptism of fire!! This Divine Quality was in me!!! It is a miracle!! I perceived this function! Divine Grace attunement, gave me the ability, to face negative situations in me! Dear Barbara,thank you for all miracles bring, from Heaven to Earth!! E.M/ Greece
PLEASE NOTE:
These attunements are purely spiritual-energetic-vibrational transmissions.They are NOT a course in Dowsing or a Course in Energy therapies on how to channel energies, transmit energies. We understand that those booking these attunements already have an understanding of what an energetic transmission-attunement is and what they can do with it.
If you need further clarifications after booking an Attunement, you can book a 30 min mentoring session with us on this LINK.
PRODUCT DETAILS:
Attunement transmitted at a distance. We need Full name, date of birth and current location of the person receiving the attunement (Write these details in the area for NOTES when placing the order. Make sure you write correctly your email),
We will write back with a date for the attunement,normally in less than 48h from the moment of the purchase.
You will receive a PDF Manual for the Attunement with instructions on how to activate it and work with it, and a Diploma in PDF.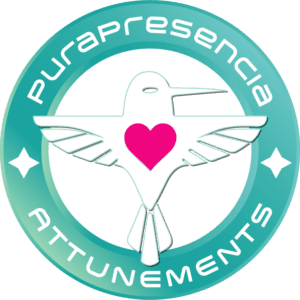 An original Pura Presencia ™ product created with full love and conscience for the highest good of all.