Description
Flower of Life Radionic Disc
According to our tests, the Flower of Life was interfered with by dense forces. It is important to work with flowers that are clean and disconnected from dense and oppressive forces, otherwise the flower becomes an imprisoning structure rather than a pattern connected to the Life Force.
There are countless explanations about the origins and symbology of this flower found in ancient temples in Egypt and other cultures.
It certainly has connections to the Tree of Life, the seed of Life, the wombs of Life. The Flower of Life is said to contain all other geometries, from the Platonic Solids to the Metatronic cube.
When we work with a flower clean and disconnected from oppressive forces, the flower can raise the vibratory frequency of what we place on it, it can harmonize, revitalize what is placed on the flower. The flower represents in its purest form, the Unity of all life and is a symbol of Creation itself.
Through my personal work, the clean and pure flower of Life helps us to work with our body of light.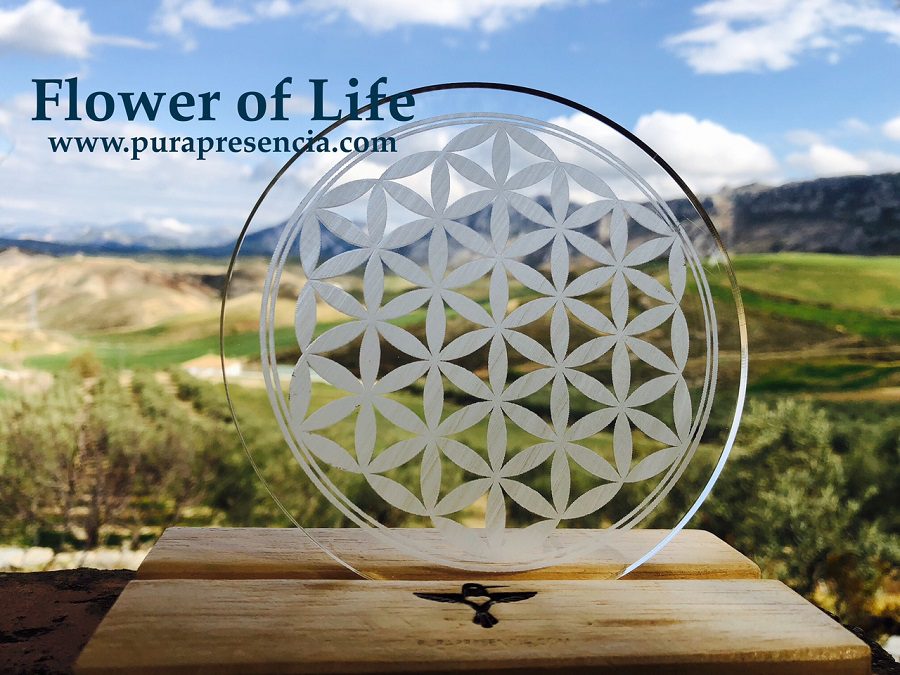 Radionic Disc Properties:
• Raise the vibratory frequency of objects, spaces, areas of the body where we pose it
• Harmonize, enhance the manifestation of our goals, desires when placing our intentions on paper over the disc
• Revitalize and Reconnect with the force of Life, with the subtle benevolent structures
• Harmonize the geometries of the light body (Merkaba)
• Charge (infuse) water, food, crystals, stones, oils, flower and herbal remedies
• As an object of meditation
• As a Space harmonizer
Attunement of the disc
The disc can be attuned to its owner. Write down your full name and date of birth on the NOTES area of the shopping cart when placing the order.
PRODUCT DETAILS
Transparent methacrylate disc measures 13cm diameter by 0.5cm thickness (it may have normal micro scratches from the material).
Possibility of attuning the disc to its owner write us your name, surname, date of birth in the Notes section in the shopping cart.
Important: Disc does NOT include wooden base which can be purchased separatedly

A Pura Presencia™  product made one by one with Love and Conscious Intent for the highest good of all