Description
Haritaki, The Medicine Buddha Pendulum
This pendulum is a delight it has a powerful charge of organic Haritaki, the king of Herbs according to the Ancient Ayurvedic healing system, it also has a powerful charge of the Pure Centering Vibration and a healing attunement to the Medicine Buddha.
Haritaki herb (terminalia chebula) is seen as being poured from the hands of the Blue Buddha, the Medicine Enlightened One, as one of his most precious gifts and healing nectars, as shown in tangkas and statues.
According to the Ayurvedic tradition, Haritaki is considered the king of herbs as it is able to bring support to almost every condition. This powerful herb does not only provide help physically but it also helps open our third eye and expand our consciousness. Haritaki has been used in ancient Siddha lineages to help reach enlightenment and access higher states of consciousness and purify the body-mind system.
Haritaki is well known in India for being an Ayurvedic remedy to help all sorts of digestive issues and has been promoted by some source as a support for weight loss. (Haritaki is one of the active ingredients of the Ayurvedic formula called Triphala).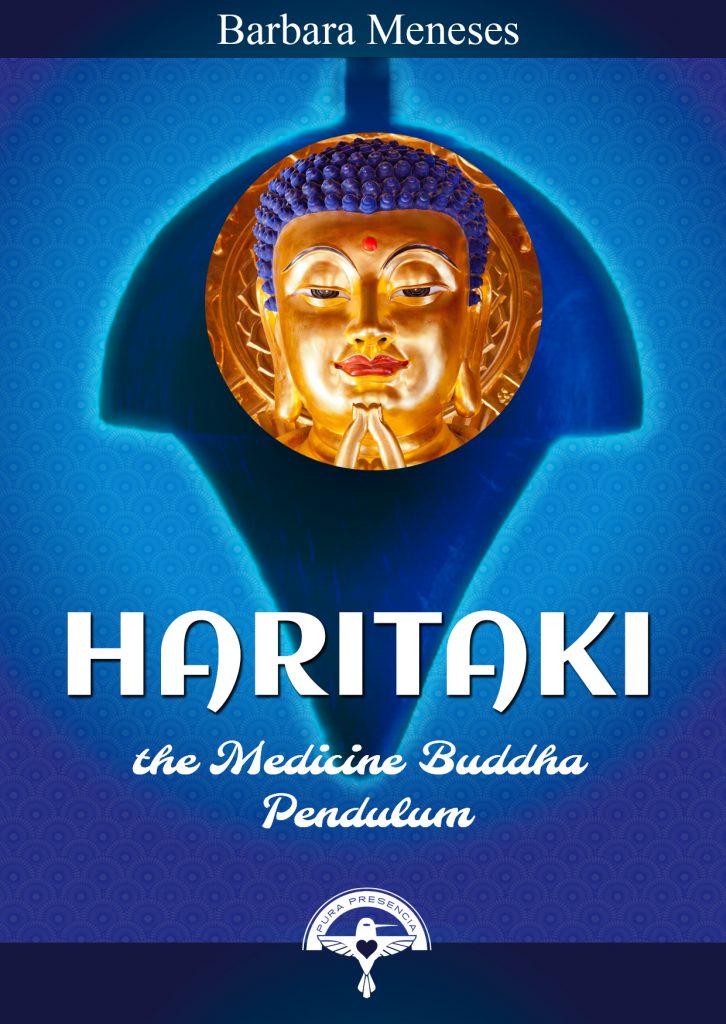 Among other benefits of Haritaki herb:
support eyesight
liver support
skin conditions
according to certain studies, Haritaki can help relief candida and has anti-fungal properties
has antioxidant properties
antibacterial properties
anti-inflammatory properties
improve digestion, decrease stomach acidity
support lung disorders
support metabolic syndrome
improve skin and hair condition
According to Spiritual sources in the Siddha traditions, Haritaki can help:
Awaken the third eye
bring to fruition siddhi powers
Heal emotional conditions
According to the Buddhist, Haritaki (myrobalan,  the dug-bcom plant) can help:
heal the three conditions of passion, aggression, and ignorance three of the most important causes for us to remain in suffering.
According to the Buddhist teaching, the Haritaki plant is one of the best medicine plants representing the eradication of suffering.
More information from Buddhist sources: Here
Other powerful vibrations within the pendulum:
Due to the power of the Word, the pendulum holds the vibration of HARI the sacred name of the Supreme Being in hinduism also known as Vishnu, Rama and Krishna. Hari in sanskrit is connected to the word "to shine", yellow gold and the lion. He is connected to the Sun, astrological sign of Leo. Another meaning of Hari is "remover of sins", "remover of obstacles" so it is said that Hari is able to remove negativity from his devotees.
Main radiesthetic colors in the pendulum:
White, Indigo and Ultraviolet at their highest vibrational frequency due to the strong presence of the Pure Centering Vibration
How to use this pendulum:
You can use this pendulum in 3 main ways:
1- Transmitting the vibrations of the Haritaki herb wherever needed in the energy field of your client
2- Impregnating water with a charge of vibrations from the pendulum as you focus on an intention
3-Transmitting healing vibrations of the Medicine Buddha as you connect to "him" in a meditative state or else as you spin the pendulum reciting his mantra:
Tayata Om Bekandze Bekandze Maha Bekandze Radza Samudgate Soha

May the sentient beings who are sick, quickly be freed from sickness. And may all the sicknesses of beings Never arise again.

Here is a link on Youtube to Lama Zopa Rinpoche chanting it.
Legal notice: pendulums are NOT medical equipment nor do they substitute proper medical care.
Product details:
Hand painted, allow imperfections.
Pendulum  with a charge of Haritaki and Pure Centering Vibration, attuned to the healing frequencies of the Medicine Buddha + mini manual 22 pages in format A6 PDF file.
Size: 7,5cm long x 6cm wide
Material: Beech wood
Weight: 50gr
Disclaimer: Pendulums are not medical equipment nor is the use of pendulums and dowsing a substitute to proper medical care.
Photo Medicine Buddha: Detlev Klockow