Description
Lakshmi radionic disc
Lakshmi, "She who leads us to our goals"
This disc connects us with Goddess Laskhmi and with her best known attributes of hers as Goddess of abundance, prosperity, joy, growth, love, beauty and harmony, good luck and fortune.
Wherever Lakshmi is located, the vibrations of prosperity, Light, as well as spiritual realization flourish.
The sacred river of India is in the service of Lakshmi.
She is also a Goddess of perception and observation, which in dowsing is a GREAT PLUS for our work.
Lakshmi Radionic Disc Properties
It contributes to the space where it is placed the vibrations of: joy, prosperity, abundance, beauty, love, harmony, good luck
It allows us to enhance our perception and observation capacity when we meditate with the disc focused on that objective
It connects us with an aspect of the Goddess, the Divine Feminine embodied by Lakshmi
It allows balancing spaces in Feng Shui or Cleaning Spaces in those places where we prove that the vibrations of the disk are beneficial
Balances Yin energy in spaces of excess Yang
Boosts the achievement of our objectives
On the spiritual path, Lakshmi helps us achieve Liberation (in Buddhist, Hindu terms). (liberation from the Ocean of Suffering, Spiritual Enlightenment, Awakening of consciousness).
Brings spiritual wealth
Opening of the heart to deepen our spiritual path, awakening from illusions and recognition of our true essence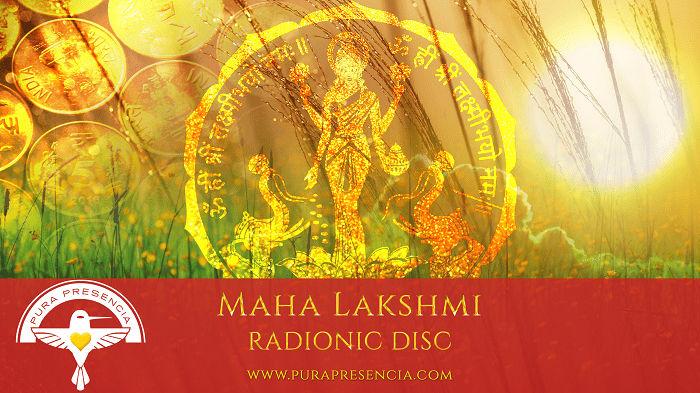 How to use the disc
Harmonization spaces, Space Clearing, Feng Shui
As an altar object
As an object to meditate with
In bioenergetic sessions where we prove that it is necessary to place it on areas of the body, aura layers
To charge water, herbal remedies, florals, essential oils with the vibrations of the disk
To charge crystals, stones with the vibrations of the disk
The discs in our collection can be combined and synergies are created to be tested in each case according to our objectives, needs
To make a request to the Goddess by placing a paper with the request and placing it on top of the disk for the necessary time.
To place Tibetan bowls on the disc and play them with the Lakshmi vibration
Others: use your imagination 🙂
Mantra engraved in the disc:
Om Hreem Shreem Lakshmibhayo Namah
A mantra to bring Peace, Prosperity, Harmony and Love
The seed syllable for Lakshmi is SHREEM.
Attunement of the Disc  
We can attune the disc to a person or a family. To do this, write us your name and date of birth in the NOTES section or that of the family.
If you don't write anything in Notes, we'll ship the disc un attuned. This does not mean that it loses its properties, but we have found that tuning it enhances the connection with the person, family and it is an offer that we make.
PRODUCT DETAILS
Transparent methacrylate disc 13 cm diameter and 0.5 cm thickness engraved by hand, one by one.
Possibility to tune it to its owner. To do this write us in NOTES name, surname, date of birth of the person. If you do not write it, we understand that you do not want it tuned. No need to tune it
Disc care: the disc may contain micro scratches typical of methacrylate. This does not alter the radionic and energetic effectiveness of the disk at all.
It can be gently cleaned with kitchen paper and alcohol, for example.
Important: Disc does NOT include wooden base  no longer available.

A Pura Presencia ™ product handmade with Love and Conscious Awareness for the highest good of All including Mother Earth