Description
Lemurian Attunement
This attunement allows you to connect with greater ease to the beneficial healing frequencies of the Lemurian civilization who is still actively present and supporting the evolution of Humanity from the subtlest planes of existence within the Earth.
The frequencies that will flow through this attunement are frequencies of LOVE, pure Unconditional Love.
You can work with these energies in Meditation, to communicate with the Lemurian beings or activate your own Lemurian ancestry if you had connections and lives in this civilization and if you have the ability to consciously connect with them. (The attunement will support your connection but your ability to perceive, feel, communicate will depend on your current level of subtle perception. The more you trust in yourself and your capacities, the more you practice immersing yourself in higher vibrational frequencies, the more likely you will feel and perceive and expand your inner senses of perception. But it might take time and also clearing of blockages and past life issues and fears).
You can also use this attunement to become familiar with the Lemurian energies if you have not had prior encounters with it and work with them on your healing sessions, your pendulum healing work or for meditation purposes.
Depending on your personal abilities,  this attunement can help you connect with Lemurian beings and you can receive guidance or information relevant to your life, your path or else receive vibrational support from this civilization.
The Lemurian attunement opens the field to work with ALL ranges of Lemurian healing tools on an etheric level. This includes different rays of energy, etheric crystals, etheric healing tables and chambers, and much more. Your ability to perceive this is going to depend on your own current level of awareness of the subtle planes. These Lemurian energies and frequencies are all under the "umbrella" of Pure Unconditional Love and are non-invasive, non-manipulative and fully integral and respectful towards us and our clients.
"Personally, I had a wonderful connection through this attunement receiving healing, information and guidance" ,(Barbara).
Uses:
You can use this attunement to impregnate your pendulums with the Lemurian frequencies and work in tele-radiesthesia mode or pendulum healing at a distance or in person.
To meditate and become familiar with the Lemurian energies and frequencies
To charge essential oils and floral remedies with Lemurian energies
To clear and uplift your environment with Lemurian energies
To work in hands-on healing in person or at a distance
PLEASE NOTE:
These attunements are purely spiritual-energetic-vibrational transmissions.They are NOT a course in Dowsing or a Course in Energy therapies on how to channel energies, transmit energies. We understand that those booking these attunements already have an understanding of what an energetic transmission-attunement is and what they can do with it.
If you need further clarifications after booking an Attunement, you can book a 30 min mentoring session with us on this LINK.
Product details:
Attunement performed at a distance+Manual+Diploma
We need your full name and date of birth. Please write these on the NOTES areas when purchasing this product. We will attune you in the next 48h You will receive a confirmation email once the attunement is performed with your diploma.
Legal Note: These attunements are pure energetic support and by no means are a substitute to proper Medical care shall you or your clients suffer from a medical condition.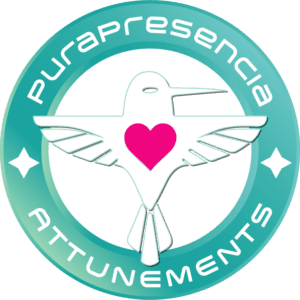 An original Pura Presencia ™ product created with full love and conscious intent for the highest good of all.