Description
Quinine pendulum
A Pura Presencia creation
We created this pendulum for those people who might benefit from receiving vibrational support during these times in particular with this plant called Chinchona, from which derive the most known and ancient ingredients against Malaria and other conditions: Quinine.
Chinchona (also known as Quinine) is a natural alkaloid with antipyretic, antipaletic and analgesic properties.
Chinchona is a nationa heritage Tree of South America (Peru, Ecuador, Colombia) with medicinal properties capable of reducing fever and other benefits. . Ancient legends speak of miraculous recoveries by using Chinchina (Quinine) as a drink mixed with water.
The Chinchona (Quinina) was employed in the Second World War to treat soldiers with arthritis symptoms and rheumatic conditions. The quinine has been reported as being able to treat different conditions, including current days issues which we cannot mention.
Has been used as a natural remedy for cases of arrhythmia,  cardiac conditions.
The quinine or chinchona is at the base of the famous gin Gin Tonic drink, created by British expatriates in India and strongly employed by these communities in African countries as a help to take the quinine to help keep malaria at bay.
The tonic derivative of Quinina is very digestive, facilitating the secretion of salivary glands and bring relief to  gastric ulcers.
It is important to note that the quinine in high doses can cause serious side effects, by which means, from this page we do not recommend its use or abuse of prescription medicine.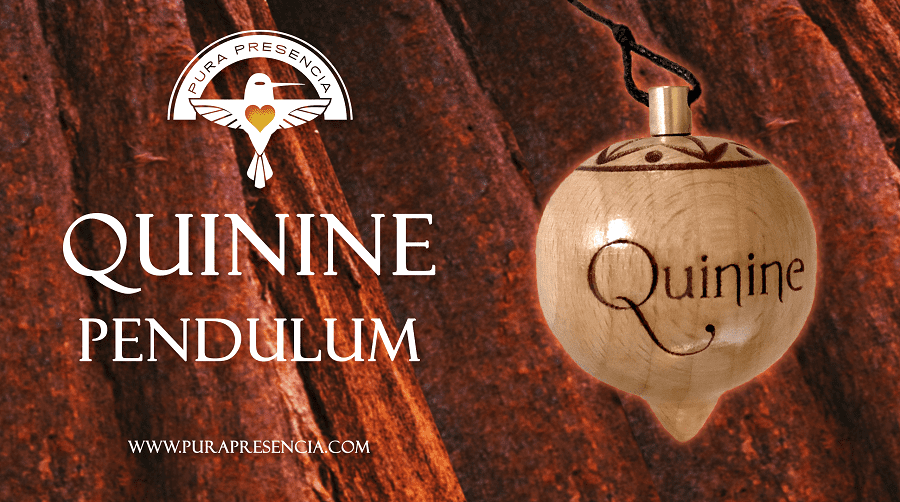 Properties commonly attributed toQuinine
Antimalarial, malaria
Digestive support
Helps detoxify the liver
Purify toxins from the body
Prevention of night cramps, muscle tension pains
Fight fever
Helps relieve body aches
Help in cases of angina and tachycardia
Used to rejuvenate the skin, hair treatments
Help with anemia
Helps with varicose veins

Fight viral infections

Support for gallbladder conditions
Relieve flatulence
Help stop diarrhea
Quinine taken orally is Not recommended for use in cases of:
Pregnancies
Cases of depression
Blood clotting problems
Liver disease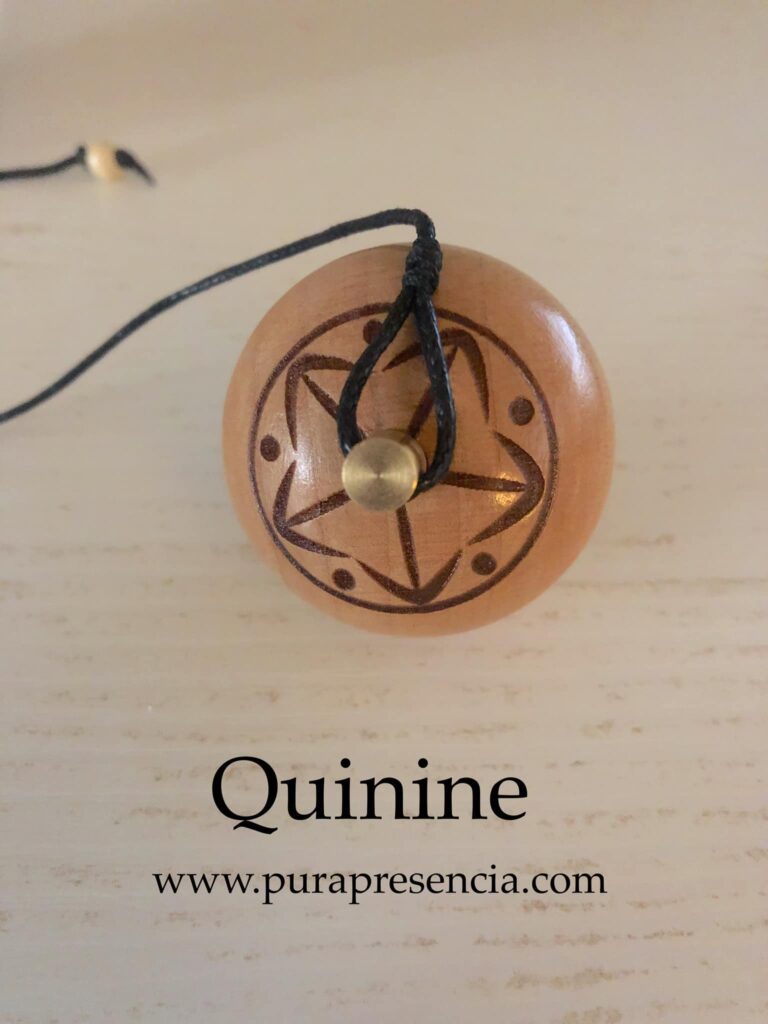 The Quinine Pendulum
The pendulum contains an internal charge of Organic Chinchona (Quinine) of the highest quality, worked energetically to ONLY help us AT THE ENERGY LEVEL, in the best possible way when necessary. It is combined with a high vibration ingredient that generates the Pure Centering Vibration (Spiritual Gold) to help us focus and reconnect with our higher aspects Source. Energetic and spiritual enhancement of the pendulum ingredients to help us in the most beneficial way.
When to use the pendulum? When we dowse in our sessions that it is necessary.
The pendulum is accompanied by a Basic Manual of Pura Presencia therapeutic pendulums, a generic manual and NOT specific to this pendulum with which we can approach its basic uses in a simple way. (This manual does not replace the proper training in dowsing that those who are going to use pendulums should receive) We recommend our Level 1 and 2 Online courses in Mental Dowsing, Vibration and Pendulum Healing
Uses: We can work on the energy field of the person, where we prove that it is necessary, we can charge water through its vibrations accompanied by our intention when we prove that it is necessary.
Important: We offer a dowsing tool to work at the energy level with Quinine, Chinchona Not to ingest it or take it internally.
Legal Notice. Dowsing is NOT a substitute for the medical care required by those with a condition.
PRODUCT DETAILS
Pendulum  hand made in beech wood, engraved with the name Quinine, our hummingbird logo and at the top a symbol of the leaves and flowers of Quinine, brass tip .
Size 7cm height, 6cm wide, 50 grams weight
Basic manual for the use of Pure Presence Therapeutic Pendulums in PDF English (It is not a specific manual for this pendulum, but a general manual for our pendulums with a filling).

A Pura Presencia™ handmade pendulum made with Love and conscious intent for the highest good of all.