Description
Radionic disc 72 Names of God
The 72 Names of God are found in the Pentateuch, in Exodus 14 verses 19 to 21 and also in the Psalms of David.These names have been offered to Humanity through the Jewish and Kabbalistic tradition. These three letters names have been considered extremely powerful to those who meditated on them and have different purposes to help us overcome our Spiritual,Mental,Emotional, Physical and Energetic challenges in life.
Disc Properties:
Helps us connect vibrationally with the 72 Names of God
Helps us work energetically with the disc over our aura, chakras,
Helps us work in energy healing sessions at a distance using witness papers over the disc
Helps us empower and manifest our desires when using conscious intention and write our goals placing them over the disc.
Help us balance our space,by introducing pure healing energies derived from the Spiritual power of the sacred names.
Helps us meditate on the names while focusing on the disc visually or else holding it in prayer position with both hands
As an altar object to radiate the Divine energies from the 72 Names.
To infuse oils, herbal and floral remedies.
To charge crystals,stones.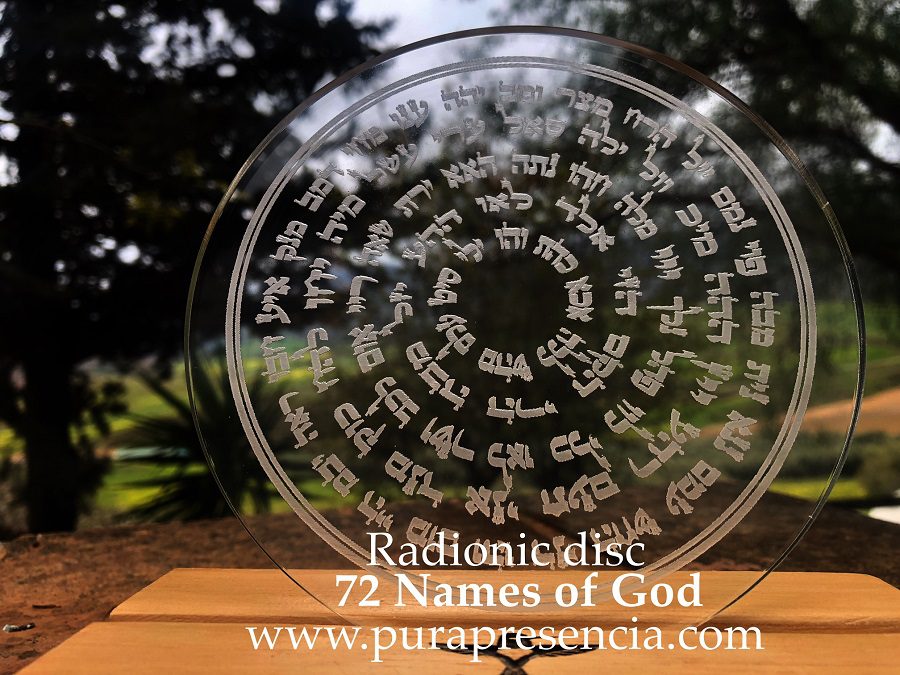 Attunement of the disc
The disc can be attuned to its owner. Write down your full name and date of birth on the NOTES area of the shopping cart when placing the order.
PRODUCT DETAILS
Transparent methacrylate disc measures 13cm diameter by 0.5cm thickness (it may have normal micro scratches from the material).
Possibility of attuning the disc to its owner write us your name, surname, date of birth in the Notes section in the shopping cart.
Important: Disc does NOT include wooden base which can be purchased separatedly

A Pura Presencia™  product made one by one with Love and Conscious Intent for the highest good of all