Description
Radionic disc Whales and Dolphins
Whales and dolphins are great helpers at a spiritual and energetic level, maintaining the levels of Light in the planetary grid. These great marine mammals are symbolically associated with the ocean of Being, the Great Life-giving Mother through her element, Water, capable of nourishing our emotional and vibratory bodies with the Divine and unconditional Love that these great greats express in the subtle world. marine beings.
These are some of the totemic associations of dolphin medicine:
Compassion
Fluidity in relationships
Emotional freedom
Telepathy, improved communication (active and conscious speaking and listening)
Joy, play, inner child
Fullness
Gifts, talents, and mental abilities
Teamwork, family, community spirit of cooperation
Humor, lightness
Security, personal confidence
Healthy self love
Cosmic, galactic intelligence
Light work, planetary grid
Energy of Sirius, Venus (Although dolphins supposedly exist elsewhere in the galaxy, they have been closely associated with Sirius and Venus)
Protection of internal and external waters
Dream's world
Good luck energy (associated with it in Celtic tradition)
Rebirth, resurrection
Mysticism, spirituality, expansion of consciousness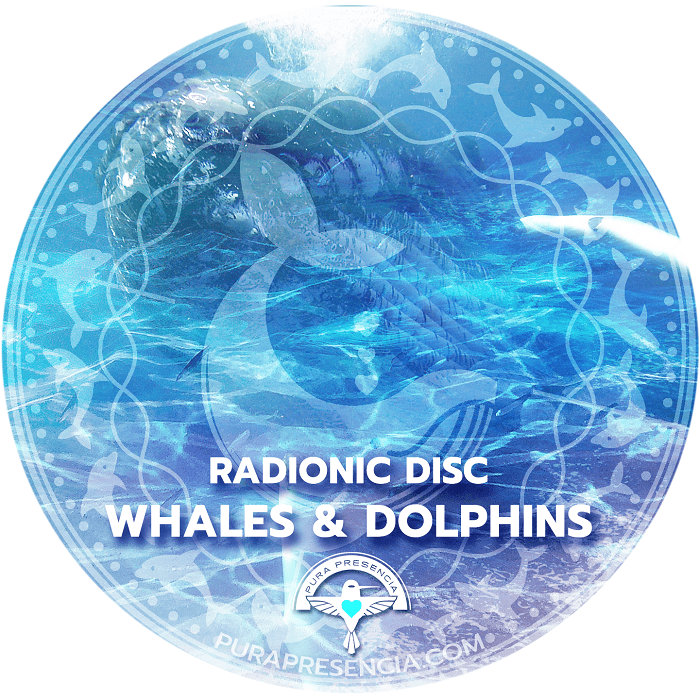 Totemic medicine associated with whales
Consciousness expansion
Subconscious
Emotional healing through the waters, the vibratory-emotional body
Inner child
Cosmic consciousness
Cosmic Records of Creation (Akashic Access)
Ancestral wisdom
Light work on planetary grid
Fluent communication (speaking, listening carefully)
Cell memory, DNA activation records
Universal Intelligence Access
Clairvoyance, clairaudience, psychic-spiritual gifts
Stellar connection with Sirius.
Deep unconditional love
Possible uses of the disc:
The vibratory medicine of whales and dolphins is united in this radionic disk so that we can work with them at an energetic level in these possible ways:
To meditate connecting with dolphins and whales
Through resonance, access to the 7th dimensional Universal Gateway (Sirius) (Masculine Solar energy). and higherAkasha
To charge liquid remedies (auric Sprays, Essential Oils, flower remedies) with the energy of Whales and dolphins
Charge crystals by placing them over the disc with the intention for them to be charged or programed with the energies of the disc
To communicate with whales and dolphins on an intuitive level
To activate in us the vibratory medicine of whales and dolphins
To work in energy sessions by placing the disc in those areas of the body where we test through dowsing, kinesiology or other intuitive means that it is necessary to transmit the vibrations of the disc.
As a harmonizing object of space, in Feng Shui, nourishing the space in particular the area of ​​our home corresponding with the Water element
We can leave the disc inside our pools, with the intention that it emits beneficial vibrations to the water of the same
We can leave the radionic disk in our gardens, near water passage areas.
In emotional energy healing processes, work with the Inner Child, with the Subconscious, cellular memories as you know how to do it depending on your training
As a simple decoration object 🙂
Great vibration to have around kids
Message of Whales and Dolphins through the Akashic Records and in relation to this Radionic Disc and the Whale pendulum:
The process of release of Darkness on Earth is accelerating and there is an increase need in the vibrations of these Divine beings which come from another Universe under the shape of Whales and Dolphins to help remove negative structures that keep Humanity and mother Earth under veils of sleep programing and forgetfulness.
When you hold the disc or the pendulum and focus actively on these tools, the vibration of these divine beings will flow through helping you wake up and release yourself from these negative structures. Your disc will open a flood of beneficial waves that will travel the entire earth through the energetic lines and grid that supports this space considered a Divine Temple in this Universe.
PRODUCT DETAILS
Transparent etched methacrylate disc
13cm diameter by 0.5cm wide
Possibility to attune it to its future owner. On the shopping chart page, write us in NOTES area the name and date of birth of its future owner. If you do not write it to us, we understand that you do not want the tuned album.
The disc is sold WITHOUT a wooden base that can be purchased separately HERE
Mini Wood stand can be purchased HERE
(We cannot always ship on the same day because we manufacture the discs one by one)
NOTE ON METHACRYLATE Due to the nature of methacrylate, you may find micro scratches on it that do not affect the effectiveness of the disc.

-Made by Pura Presencia with conscious loving hands-