Description
Reiki, a Radionic disc to send healing energies trans spatially
We have created this Radionic Disk, initiated to the clean frequencies of the Universal Energy that Mikao Usui called Reiki by rediscovering a therapeutic way of channeling this energy for self-treatment and treatment of others.
The Radionic Disc has been created to facilitate distance healing work through the use of the disc, a witness paper with the name of the person placed on the center of the disc above the distance symbol that is taught in Reiki level 2 .
The disk can be used by both Reiki therapists and Dowsers or those who work on processes of harmonization with energy and doing work in the distance, that is, "sending" the energy wherever the person, animal or treated space is, transpacially.
Disc properties:
Initiated to Reiki 1, 2 and 3, the disk can channel the different properties of the Universal energy of those levels of "Reiki" therapy (according to the most widespread teaching Usui Reiki Ryoho, Gendai Reiki Ho).
It enhances the "sending" of energy in the distance to people, animals, objects, spaces in places other than where the therapist is, by means of witness paper.
It helps to harmonize our spaces when we mark our intention and hold the disk between our hands to "activate" the flow of energy towards our spaces with that intention.
It can help in massages or energy therapies with the client physically on the table by placing the disk in the areas selected by testing and activating it with the intention that the energy flows to help the person according to their objective.
As a personal object of meditation or connection with the Universal energy (Reiki)
To charge flower essences, oils, herbal remedies, water, crystals by placing them on the center of the disc for the time tested as being ideal.
Uses for Reiki practitionners or hands on healing therapists:
An example:
Open (connect) your connection to Reiki, start flowing the energy and hold the disc AND the witness paper with the name of your client in the middle of the disc, where the Hon Sha Zei Sho Nen symbol is, and place both hands in prayer pose in front of your heart as you channel the energies to your client. End the session once you feel that the person has already received all the influx of energy, disconnect from both the client and the transmission.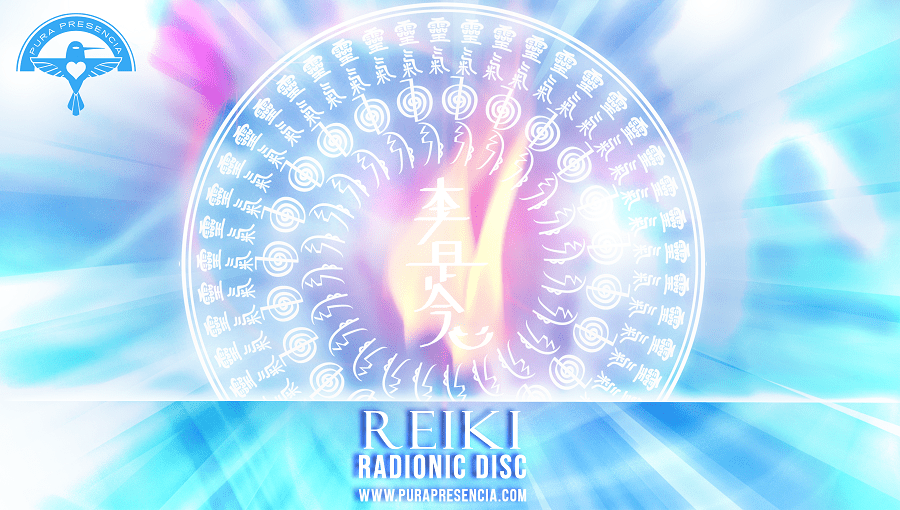 PRODUCT DETAILS
Transparent methacrylate disc measures 13cm diameter by 0.5cm thickness (it may have normal micro scratches from the material).
Possibility of attuning it to its owner write us your name, surname, date of birth in the Notes section in the shopping cart.(The attunement of the disc to the owner is NOT an attunement of the person to Reiki).
Each disc is initiated individually to the Reiki system (Levels 1,2,3 Usui Reiki Ryoho, Gendai Reiki Ho, but Not to the mastery level) by a Reiki Master  with 22 years of experience,
Important: Disc does NOT include wooden base which can be purchased separatedly

A Pura Presencia™  product made one by one with Love and Conscious Intent for the highest good of all