Description
Bioenergetic session Self-Esteem
In these sessions we work with the Lecher Antenna and our in-depth protocols to analyze and provide solutions from a bioenergetic perspective to the patterns and imprints that different life experiences may have affected negatively our self-esteem our self-worth, our self-love, the healthy self-consideration and self-respect that we deserve naturally.
These sessions are by NO means a substitute to the proper medical care and psychological care that any person suffering any clinical condition might need to undergo.
In these sessions, we are purely addressing the energetic dynamics of this situation working to clear the energy field from any negative pattern related to self-devaluation issues.
A healthy self-esteem is a crucial ingredient for us to thrive in many areas in life: from career, work, abundance, prosperity, relationship, sports and performance etc.
You may want also to read our Dowsing Key 5: Dowsing protocol for a healthy self-esteem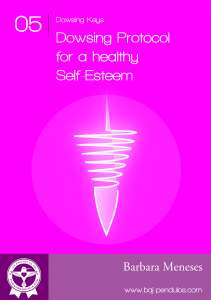 Who is your session´s facilitator
Product details:
Price per session 1h to 1.5h at a distance. We need your name, date of birth, recent picture. We will perform the session at a distance and will send you an audio and pdf document with the results of the session.
Photo:Kinga Cichewicz