Description
Peace, an anti stress and anxiety pendulum
A Pura Presencia pendulum
We have created this pendulum in order to help those who suffer from physical, mental, emotional and energetic-spiritual stress as well as anxiety due to known or unknown causes.
The pendulum can be applied to people and animals.
How to work with the pendulum:
By transmitting its inner charge of ingredients working on people, animals or in teleradiesthesia mode
Through the use of dowsing commands focused on addressing the issue of stress and / or anxiety
By combining 1 and 2 depending on the practitioner's dowsing training.
By combining 1 and 2 carrying water, crystals, food, spaces with the vibration of the pendulum and our intention.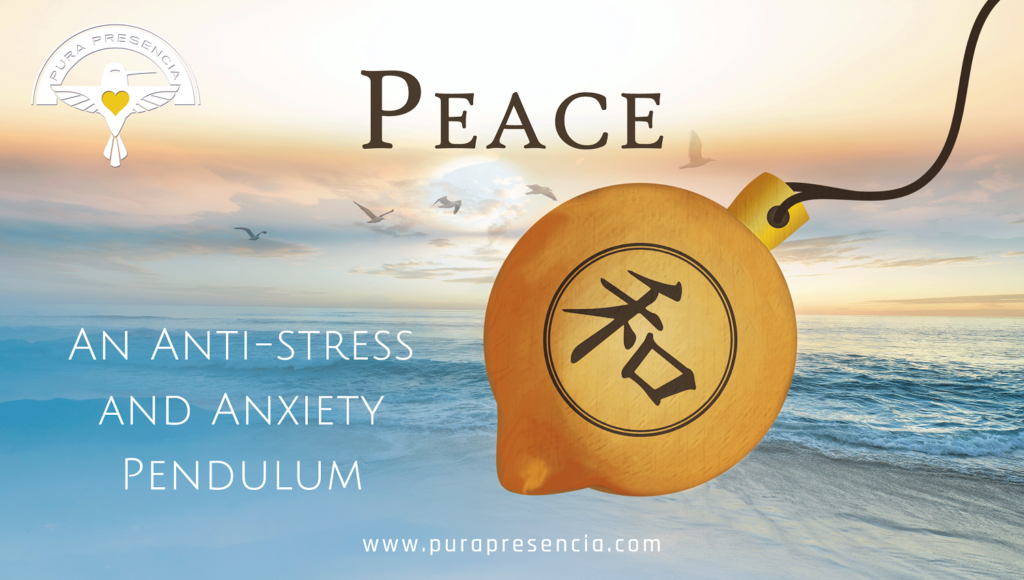 Pendulum properties
By virtue of its shape: Pendulum in the shape of the classic Mermet in honor of the Abbot Mermet, a pendulum with the ability to radiate and focus at the same time, a shape that responds very well to the vibration of its internal charge.
By its internal charge of remedies: the pendulum has a series of herbal remedies, flowers, oils and crystalline frequencies in order to help relieve stress in its different manifestations as well as anxiety.The charge of internal remedies includes a physical ingredient that generates the Pure Centering Vibration and emits the radiation of Spiritual gold with great capacity to help us focus on our axis and balance ourselves.
By its base radiesthetic color: the pendulum's base color is White, a universal healing color.
By its engraved symbol: the pendulum has an initiated and tuned symbol that corresponds to the Kanji of Peace, the most suitable vibration-medicine to energetically relieve stress and anxiety.
By its Spiritual vibrations: The pendulum resonates with the Christic frequencies of "The Peace that surpasses all understanding".
Attunement of the Pendulum to its owner:
By way of offering, we can tune the pendulum to its future owner. To do this, write us in the NOTES section in the shopping cart, indicating your name, surname and date of birth. Otherwise, we understand that you do not want the pendulum tuned and we will send it to you as is.
Legal notice: Dowsing is NOT a substitute for the proper medical care required by those who  suffer from a clinical condition.
PRODUCT DETAILS
Pendulum beech wood engraved with brass tip
Basic Pendulum Manual with Pura Presencia load PDF English (It is not a specific manual about this pendulum but a general manual).
Possibility to attune the pendulum to its owner: please write your full name and DOB in the NOTES area in the shopping cart.

A Pura Presencia™ Pendulum handmade with Love and Conscious Intention for the highest good of All.