Description
Tara Radionic Disc
(Green Tara and White Tara)
Tara is known in Buddhist Tradition as the Mother of Liberation, as a Bodhisattva or a female Buddha, the Mother of all Buddhas, an honorary title. Her qualities represent all the spiritual virtues that lead us to success on our path, especially in terms of Compassion (Mercy), Love and Wisdom. There is a Buddhist practice of recitation in honor of the 21 Taras to activate the essence of Tara and help us on our way.
Tara manifests itself in many ways such as Green Tara or White Tara.
In her Green form, Tara is a protective figure that helps us avoid the poisons of the mind, namely: pride, ignorance, jealousy, envy, hatred, anger, misperceptions, misjudgments, attachments, desires.
In her white form  Tara is considered a longevity figure that helps in cases of disease because health by definition provides longevity.
This radionic disc has been prepared for Tara to flow in either of her forms, depending on the needs of the user of the disc.
Mantra on the Disc:
On the disc we have recorded the famous generic mantra of Tara Om Tare Tu Tare Ture Soha main mantra by which she is invoked.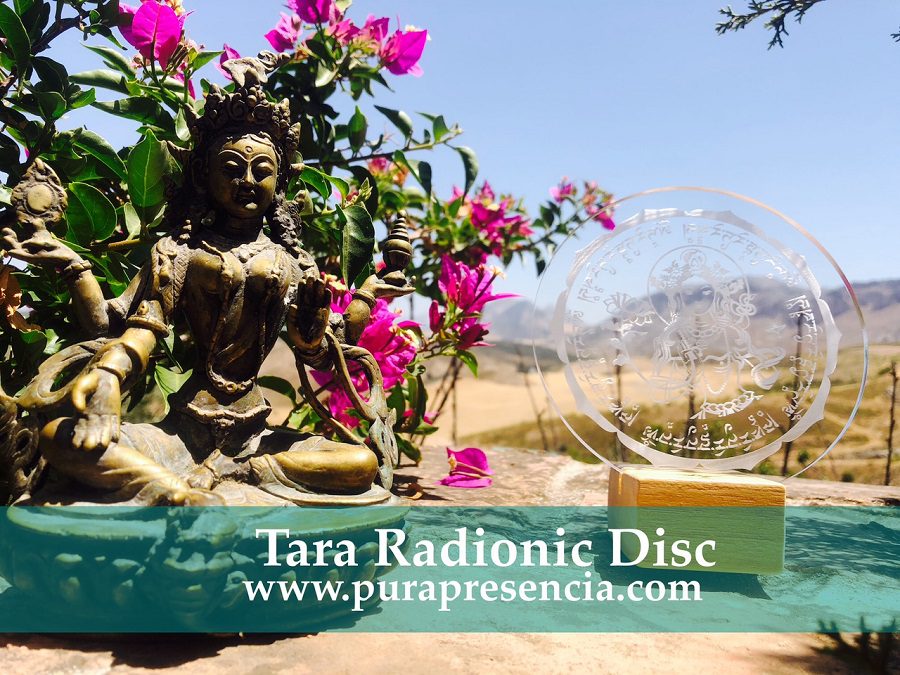 Radionic Disc Properties:
As a point of meditation focusing on the virtues of Tara: Compassion in action, wisdom, clarity, Enlightenment, Liberation, spiritual protection …
As an object of harmonization of space by introducing the vibrations of Tara (Peace, Serenity,Equanimity, Love, Wisdom, Liberation, Success) (Feng Shui, Vastu)
As a radionic transmitter through the use of witness papers with the name of the person or situation that we wish to receive the beneficial influences of Tara by depositing it on the disk for the opportune time that we estimate through a radiological test.
To charge water, crystals, essential oils, flower remedies with the beneficial vibrations of Tara,
In massage or energy healing sessions, placing the disc in areas of the person's anatomy where it is perceived as necessary to balance the area in accordance to our intuition or bioenergetic testing.
As an object of decoration.
Others, each use our intuition and find new uses for it.
Attunement of the Disc
We offer the possibility of attuning the radionic disc to its new owner, write us in the NOTES section in the shopping cart your name, surname and date of birth.
PRODUCT DETAILS
Translucid Methacrylate disc engraved one by one with focus and awareness
(Allow imperfections due to minor scratches of the methacrylate, unavoidable this does NOT change the energy properties of the disc).
Size: 13cm diameter and 0.5 cm width
Possibility to attuning the disc to its owner (write us in NOTES when making the purchase your name, surname, date of birth) we usually send fast if you do not write us this we will send you the disc without attuning. (This is optional, an offer)
Important: Disc does NOT include wooden base which can be purchased separatedly

A Pura Presencia™  product made one by one with Love and Conscious Intent for the highest good of all