Description
The Fairies Pendulum
A Pura Presencia Pendulum to work with the Fairies and connect with their vibrations. For those who still believe in the magic of these beings, we offer you a pendulum with which you can connect with the fairies, help them if they ask you, charge herbal remedies, flowers, essential oils with the vibrations of the fairies, and why not , connect and dialogue with them if you find them in your gardens or walks in Nature.
We feel that this pendulum will reach you with at least one fairy of 100% pure light, maybe more. In the manual that accompanies the pendulum, with simple instructions, you will find a message from the "Fairy of the Pendulum", the guardian of this dowsing tool that we have made with full love and awareness, honoring these beings who are dear to many.
"Personally I know that they exist and I have seen them, in fact one came to visit me for my 18th birthday, a little late you will tell me to receive a fairy in my house! But yes, it was one of my magical encounters with seemingly invisible beings! " B. Meneses.
Properties of the Fairies pendulum
The pendulum has the classic dowsing shape of the Mermet, the Abad Mermet pendulum a shape that combines the ability to radiate with the functionality of focusing energy.
The base radiesthetic color of the pendulum is White, with a sub base of positive Green, Indigo and other colors that may arise depending on the type of Fairy with which we contact.
The pendulum has an inner charge of remedies chosen by the Kingdom of the Fairies and the Pure Centering Vibration, an uplfiting radiation that emanates Spiritual Gold and which we study on our Level 2 of Mental Dowsing, Vibratory Radiesthesia and Pendulum healing Online Course.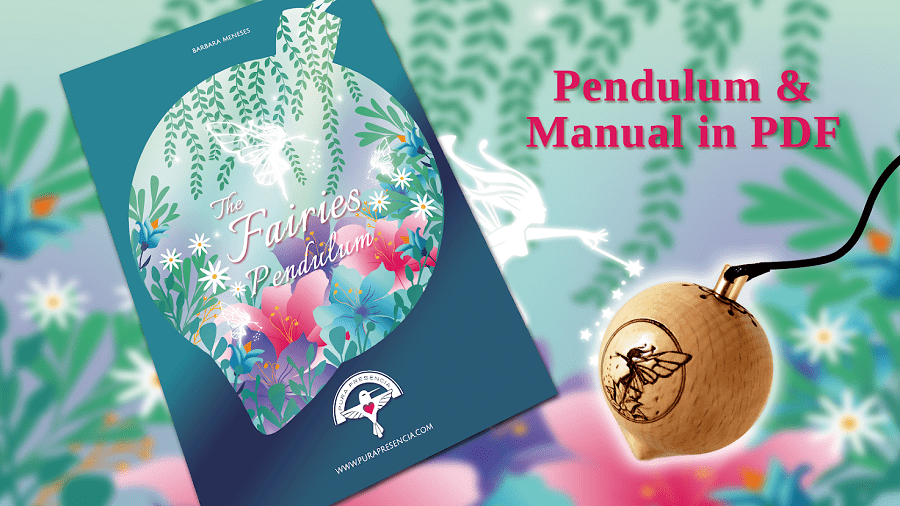 Uses of the Fairies Pendulum
Connect with the Fairies
Dialogue with the Fairies (who knows and can)
Transmit the internal vibrations of the pendulum charge with fairy related remedies including Pure Core Vibration which emits the radiation of spiritual Gold
Charge herbal remedies, flowers, oils with the vibrations of the Fairies
Work to harmonize with nature thanks to the vibration of the Fairies
Help the Fairies with the pendulum when we feel they need it, for example protecting the garden or its space against toxic aggressions
Raise the vibrational frequencies of children's rooms
Help awaken, encourage, activate our Inner Child
Use your intuition to discover new uses for this pendulum
Manual
The Fairies pendulum comes with a simple manual with basic instructions that is NOT a substitute for the dowsing training that those who are encouraged to use these tools should receive. The manual is in PDF.
Attunement  to the pendulum
As an offering, we can tune the pendulum to its owner. To do this, write your name, surnames and date of birth in the NOTES section when making the purchase. (If you do not tell us anything, we will send it without tuning).
AUDIO PRESENTATION
PRODUCT DETAILS
Beech wood pendulum with two engravings and brass tip to pass cord handmade one by one by Pura Presencia.
Weight aprox: 50gr
Basic manual in PDF pages: 32 A6 format in ENGLISH
Possibility of attuning the pendulum, write your name, surnames, date of birth in the NOTES section when making the purchase