Description
The year 2022, in February begins in the Chinese calendar the Year of the Water Tiger. The radionic discs that correspond to the Chinese zodiacal signs serve us both to connect with the totem animal in question (Tiger, Buffalo etc) and with the properties that these figures have in Feng Shui representing these archetypal forces.
According to Chinese Astrology, the Water Tiger corresponds to a year of ambitions, competitiveness, impulsiveness and communication.
The wood element (corresponding to the Tiger) and water are the two main elements of the year.
This year's colors are Cerulean Blue, Yellow, Fire Red, Mint Green and Imperial Yellow.
The Water Tiger, unlike the other elemental combinations of the zodiac, is a direct energy that works hard to achieve its goals. Tigers as such are calm, familiar, group animals and have excellent interpersonal relationships. They are also an archetypal force that invites us to take risks, or to get out of our comfort zone and use our most creative thinking to find original solutions.
The tiger is a lucky animal in almost all areas, so in a Tiger year we can find good opportunities that come to us.
Disc properties:
Allows you to connect with the shamanic "medicine" of the tiger
May help us connect and enhance the vibration of strength in our lives
May empower leadership qualities in us
May help us access our inner courage, bravery
May help us strengthen our will
Empower our communications skills
May empower the higher intellect
It allows to harmonize the space in a Water Tiger year
It allows to enhance aspects of the spiritual vibration of the tiger in space to help us on time
As a decoration object in a shamanic altar
To charge herbal remedies, flowers, oils with the vibration of the tiger.
Feng Shui Orientation (Depending on the teaching of this art that is followed). We can strengthen the Eastern area, which is the weakest this year 2022.
Attunement of the disc to its owner
As an offering we can attune the disc to its owner (be it a person or a family) Please write your full name date of birth in the NOTES area of the shopping chart, thank you.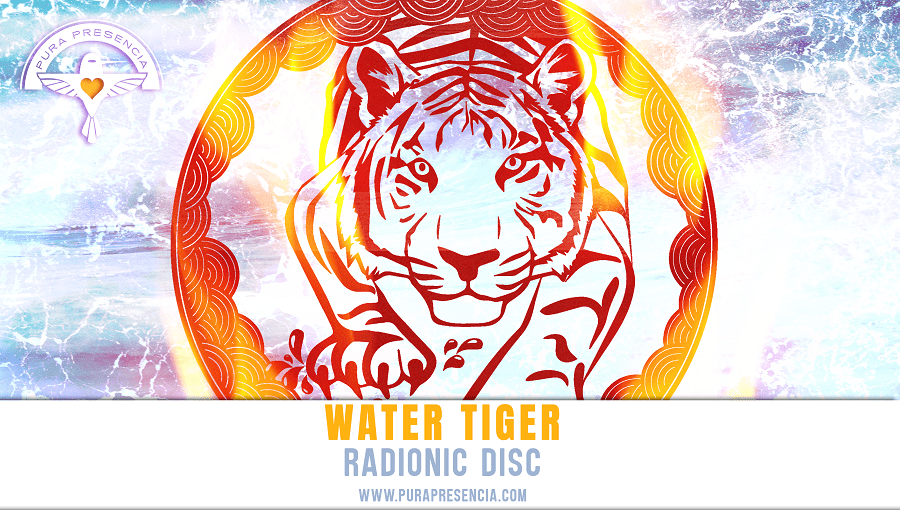 PRODUCT DETAILS
Transparent methacrylate disc measures 13cm diameter by 0.5cm thickness (it may have normal micro scratches from the material).
Possibility of tuning it to its owner write us your name, surname, date of birth in the Notes section in the shopping cart.
Important: Disc does NOT include wooden base which can be purchased separatedly

A Pura Presencia™  product made one by one with Love and Conscious Intent for the highest good of all