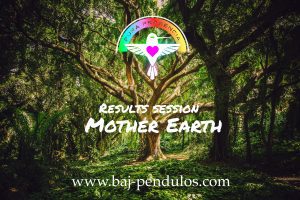 RESULTS SESSION MOTHER EARTH and our harmonization with Her
For safety reasons we won´t comment on the healing performed today to Mother Earth. Suffice to say we worked with the Lecher Antenna. Archangels pendulum, Ho' pendulum, Pachamama pendulum and with direct transmissions of energies and spiritual frequencies.
We harmonized the relationship of the people who wanted to receive this harmonization to Mother Earth and we extended this offering to include and benefit all Humanity.
There was a clear deficit of our capacity to FEEL… feel the Earth, feel ourselves, feel our relationship to Her. We hope the session helps in this direction specially now that we are hitting the North Node in Cancer and we are being called to activate the Cancerian "medicine" that is precisely the activation of our feelings, our emotional intelligence, our capacity to nurture and provide safety within us.
We hope this session helps you and Mother Earth, this was a humble contribution to all other efforts performed by infinity of Souls who have incarnated to assist Her in this crucial time.
At the end of the session, the message that came through by Her was to remind us of the Eternal Ocean of profound Love which connects us to Her. let us not forget that this planet is Mother Earth´s heart and the medicine of the Heart is Love. May we always be in a loving flow with our Mother Earth 
<3
Happy Solstice
Barbara Meneses
Photo: veerterzy
——————-
www-baj-pendulos.com/en