Pendulums with a Soul
Jozef Baj (1915-2006), pronounced "Bai" was the founder of the radiesthetic laboratory BAJ. This polish Lab sells pendulums and other dowsing tools designed and developed by Jozef Baj along with his dedicated team of researchers.
Those who had the great fortune of meeting Mr Baj, have told us he was a very special person, a master with great humility and love. He had a tenacious and tireless commitment for researching the field of radiesthesia, his lifelong passion.
Today, people from all over the world, dowsing lovers and experts in the field , enjoy the pendulums he created with his team. The Laboratory is currently under the guidance and direction of Barbara Lesniewska and Alexandra Gondek.
Baj´s work is very precise, well calibrated with an excellent vibratory quality and a great radiesthetic sensitivity. His pendulums are called "pendulums with a Soul" , for such is the way people all over the world feel about them.

The personal story of Jozef Baj is little known. We have been told he was a very discrete and egoless person who didn´t like attracting too much attention upon himself. We know that his beginning in the art of dowsing occurred during World War II when he was only a child and was imprisoned in Auschwitz concentration camp, in Poland.
During those tragic days, he met a Swiss prisoner who was a dowser. Very soon they both became close friends and the Swiss man transmitted to the young Jozef all his knowledge and skills. Together they practiced the art, creating pendulums with whatever material they could grab hold of in the camp.
Baj´s dowsing skills really saved him. On one occasion, the guards of the concentration camp forced him to find a water well and threatened his life should he fail. Fortunately, Baj found it!
For many years since this tragic experience, Jozef Baj continued cultivating his dowsing passion and his skills. He studied extensively the work of A. Belizal, L. Chaumery, P.A. Morel and Enel. Inspired by the classical French researchers, Jozef Baj developed his version of the Universal Pendulum and very quickly it became one of the best made models available to this day. He also researched extensively to find the exact proportions and radiesthetic quality of the classical pendulums Isis, Karnak and Osiris and made his own versions respecting the proportions, calibrations, and radiesthetic colors he determined to be the most appropriate from his extensive research.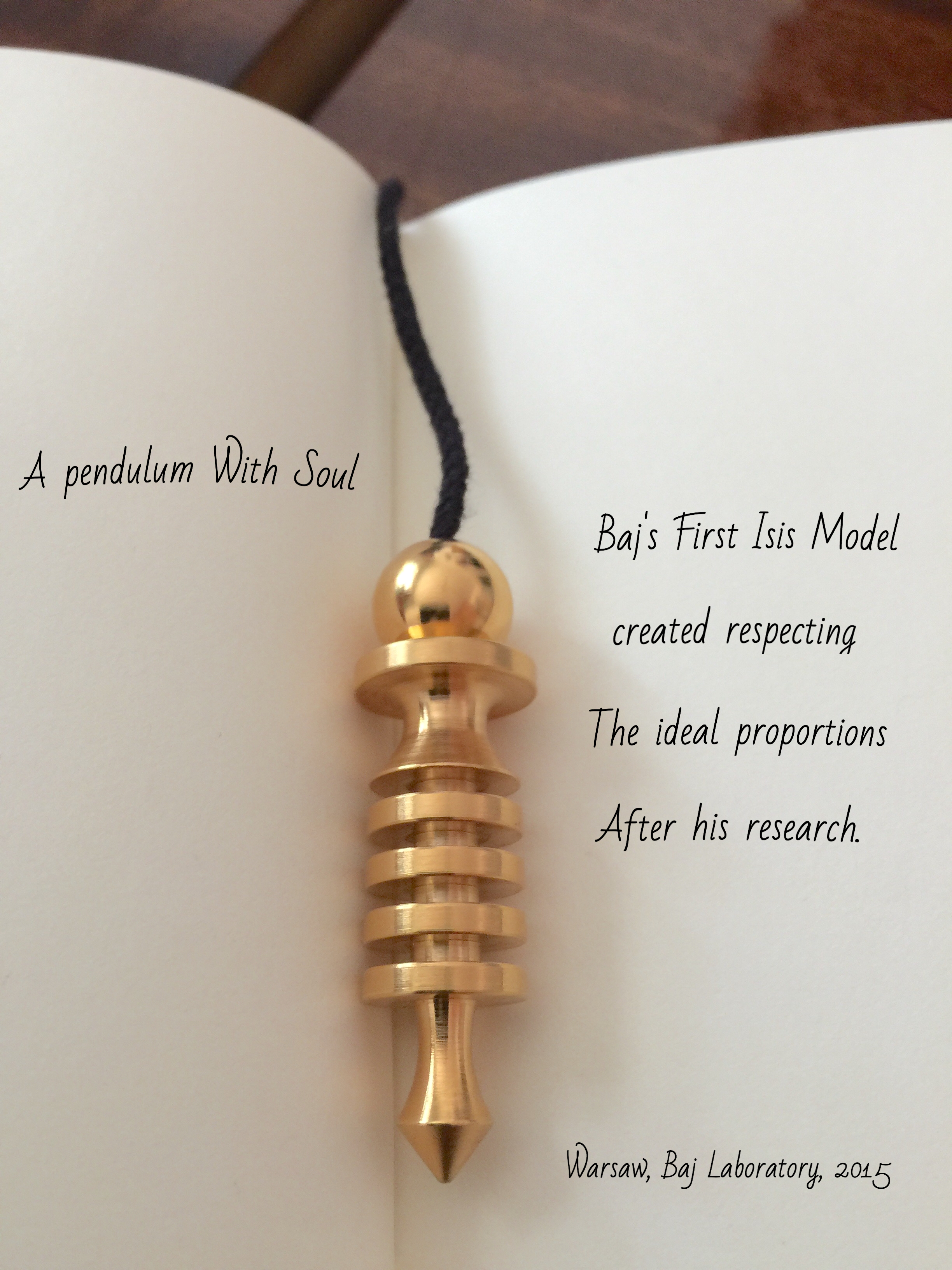 In his latest years, Jozef Baj ventured into the field of medical radiesthesia, introducing new concepts and products, such as his collection of natural medicine pendulums with accumulators. These pendulums are able to emit the vibratory qualities of different herbal remedies, microelements, micro-nutrients considered vital for the wellbeing of our human organism.
The culmination of Jozef Baj´s work was the Universal Set with 49 pendulums offering a wide range of vibratory solutions for the most important human needs.
Nowadays, Baj Laboratory continues researching and creating new radiesthetic tools following the guiding principles of Jozef Baj´s quality and design. New tools are being researched and developed every year in accordance to new needs and new findings in term of health and wellbeing. The contribution of Jozef Baj and his laboratory to medical radiesthesia is very important, opening new horizons of possibilities unimaginable until now.
Choosing a Baj pendulum is choosing great quality, for these radiesthetic jewels are appreciated by both, collectors and expert dowsers. Baj´s tools are carefully crafted, calibrated and tested to emit the highest vibrational emission and quality for safe and competent use.
Throughout our webpage we will clearly state when a pendulum is a safe and secure pendulum in the hands of beginners, as well as those pendulums that are safer in the hands of more experienced dowsers. The main radiesthetic color of each pendulum sold is indicated in the description.
May you enjoy these tools and benefit from them as much as we do!
---
Barbara Meneses
Baj Pendulums Official Distributor, Bioenergetic practitioner, Dowser and Teacher.