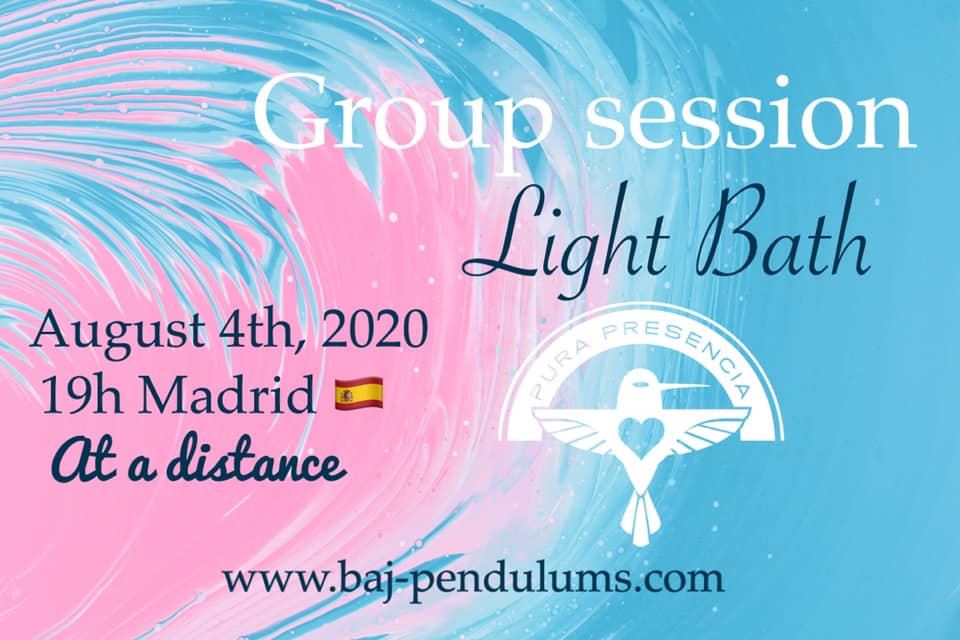 GROUP SESSION
Light Bath
Date: Tuesday, August 4, 2020
Time: 19h Madrid Spain (calculate your time zone)
In the distance (you don't have to be anywhere or pay anything)
WE CLOSE THE LIST 30 MIN BEFORE BEGIN DELETING THIS POST
Who can sign up: All those who put their name under this post (the original post by clicking on the following FACEBOOK link)
https://www.facebook.com/BajpendulosSpain/photos/a.500993363406461/1553553721483748/?type=3&theater
You can also sign up under this YOUTUBE post:
https://www.youtube.com/post/UgxSsqG1-i5jqBcWLFJ4AaABCQ
If you are adding family, friends, do so with THEIR express consent.
Session purpose:
transmit an energetic bath of Light of the maximum vibration that is of benefit to the whole group in order to support them in the global situation that we are all experiencing. Relieve uncertainty, fear, pain, frustration, cognitive dissonances, difficulties adapting to the current situation, stress relief and feel the unconditional love and support of the Source and the affection of those who facilitate the session for all of you.
Organized by: Barbara Meneses, Baj Pendulos Spain-Pura Presencia session free of ties for the highest good of all.
What to do during the session?
You can continue doing your normal activity knowing that you will receive a Light bath. If you want later, you can sit down to receive and feel the transmission. If you connect at the same time, just stay responsive.
You can decree the following: "I open myself to receive ONLY the best of this session as long as it is for my highest good." This will make the transmission always for your highest good, free from any bondage, honoring your freedom.
What to do after the session:
Drink water, rest, things will move and it may take a few days to integrate the session, patience and love with yourself and others 🙂
Blessings
Barbara Meneses
www.baj-pendulos.com/en
www.purapresencia.com