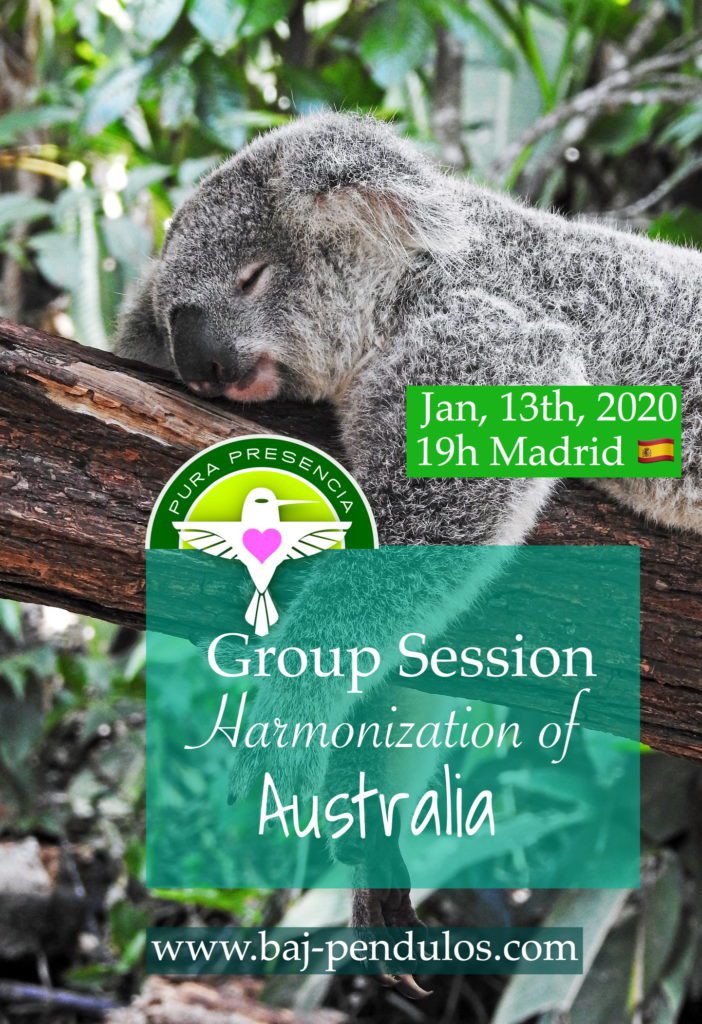 WE CALL ALL DOWSERS to participate in this new group session in support of AUSTRALIA, helping the flora, fauna, Humanity and Mother Earth as well as the Elemental forces to harmonize in order to mitigate and eliminate the harmful impact of fires in the continent.
We invite you to test if you must participate, and to do so by requesting permission from the Guardians of the Continent, with the utmost respect for the native aboriginal population and without interfering negatively with the vital path of that area of ​​the world.
Date: Monday, January 13, 2020, at 7:00 p.m. from Madrid Spain. If the time is not suitable to you, consider programing your contribution so that it is added at that time to join all efforts.
Work: use your pendulums in the way you feel convenient focusing on the greatest good of Australia, its fauna, flora, human population, Earth, elemental forces. Focus on relieving the negative consequences of fires, on helping firefighters and rescue teams, on relieving those who have lost family members, friends, animal companions or suffered any destruction, relocation, loss.
If you don't use a pendulum, use prayer, the healing arts you practice, sing, meditate, dance for Australia, with the intention of contributing your love, your light, your VISION of a harmonized Australia for the greatest good of the Earth.
Together we can make a difference, let´s do it! 
🙂 
<3
Here is a testimonial coming from Australia after the results of our first dowsing session:
Lynne wrote:
I live at Tweed Heads, on the coast of northern NSW – things have settled down BUT there are continuing fires mostly in Victoria and southern NSW – having read your amazing words I must thank you from my heart – thank your for your efforts and awesome insights; they ring so true for me – the rain is beginning to fall where needed "
Infinite blessings
Barbara Meneses
————-
www.baj-pendulos.com