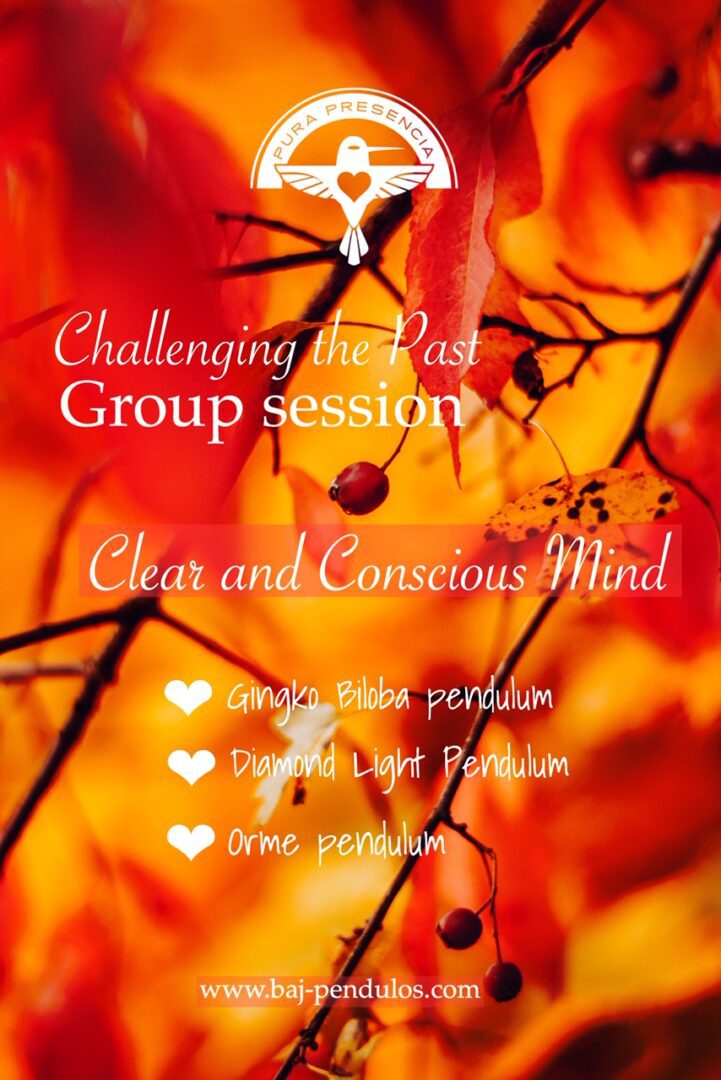 CHALLENGING THE PAST/ GROUP HEALING SESSION SUPPORT
When: 12th June 2019 at 19h Madrid time Spain
Who can participate: Participants inscribed in the Challenging the Past practice
What is the Group healing about?
We will work with three pendulums:
-Orme Pendulum
-Diamond Light Pendulum
-Gingko Biloba Pendulum
In support of your higher mind, and mental abilities to bring greater clarity, focus and attention in support of your practice relinquishing the attachments to the past.
What do you need to do? Simply open yourself to receiving the session with a statement shuch as: "If it is my highest good, may I benefit from the BEST of this healing session in support of my practice during the Challenging the Past contest or better now, thank you".
RESULTS OF THE SESSION
CHALLENGING THE PAST/ Group healing session results
The level of grounding (to Earth) of the group was rather low, a 5/10 when we should be at a 10/10. This lack of grounding causes a lot of imbalances due to the difficulties eliminating toxins of all sorts.
We worked grounding the group to Mother Earth with the Pachamama Pendulum. 
We then proceeded to transmit the vibrations of the pendulums: Gingko Biloba, Diamond Light and Orme at the third eye level.
We re-grounded the group with Pachamama
We ended the session transmitting the exquisite vibrations of the pendulum Sacred Space at the level of the heart.
At the end of the session a message came for the group reflected in the key word IMPECCABILITY.
We are invited to bring impeccability into our lives in thought, speech, actions, an invitation to contemplate the meaning of this word and how it can serve us well on our conscious path.
Blessings
Barbara Meneses
————
www.baj-pendulos.com
WHAT IS CHALLENGING THE PAST CONTEST?
Read all about it here and inscribe yourself here: