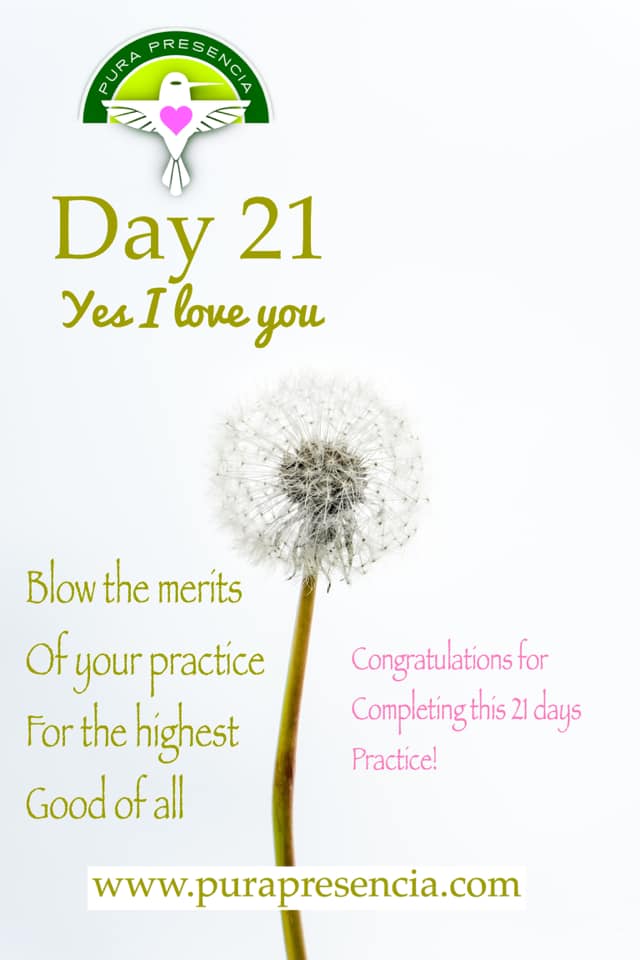 DAY 21 "Yes I love you", 21-day practice!
Today we reach the final stretch of our practice. our last day. You may not have started the same day as us, but when your 21st day arrives you can read this post and celebrate it with us !!!!
Today is a day to recap the path traveled with this practice, feeling in our body the changes that have occurred since we started. A day to bless our effort with this practice and RECEIVE the blessings of Heaven for having opened ourselves to Love as we have done!
For this reason, today we are holding a group session in gratitude to all the participants to receive the blessings that come to us as a result of our effort.
I hope that this practice has kept you focused and tuned to Love these 21 days and that it has been of benefit to you. If you wish, I encourage you to write a few lines about how you have lived this practice, perhaps that will help other people to start it.
You can always do again this practice through our BLOG where you have published the steps of the practice every day.
This has been an initiative of Barbara Meneses, Pura Presencia for the highest good of all, in service to Humanity in these troubled times. The purpose of the practice was to help strengthen the vibration and medicine of Love in our lives and to be strong and solid pillars of Love for our communities.
So be it!!! Thank you so much everyone
Barbara Meneses
FOLLOW THE PRACTICE IN OUR BLOG
https://www.baj-pendulos.com/category/21-day-practice/