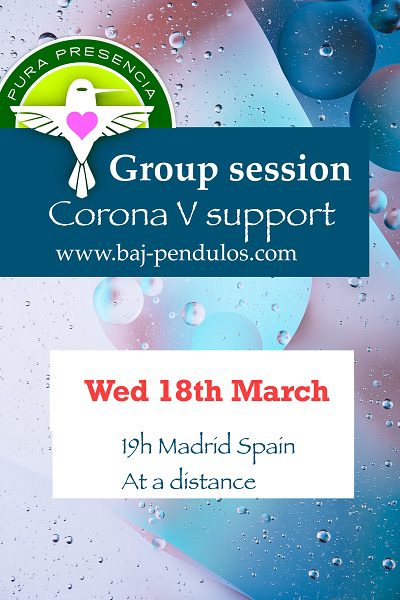 PLEASE SHARE
FREE
BIOENERGETIC CORONAVIRUS SUPPORT GROUP SESSION
Date; March 18, 2020
Time. 19h in the distance
Who can join: anyone who writes their name under this post, if you ADD someone ask for their permission.
Purpose of the session:
To support the group of people who sign up with our bioenergetic procedures to facilitate energy, emotional, mental and spiritual help to maximize our energy system and our spirits in the face of the pandemic situation we are all experiencing.
The session is offered FREE by: Barbara Meneses Pura Presencia, Baj-pendulos Spain.
We do not answer individual questions about the session. Session held for the highest good of all, free of ties and FREE of charge.
After the session: drink water, rest.
WE DELETE THIS POST 30 MIN BEFORE THE SESSION BEGINS and we will post the results on the Baj-Pendulos Facebook page as well as in our BLOG on the web www.baj-pendulos.com/en
Best wishes
Barbara Meneses
————————-
www.baj-pendulos.com
www.purapresencia.com