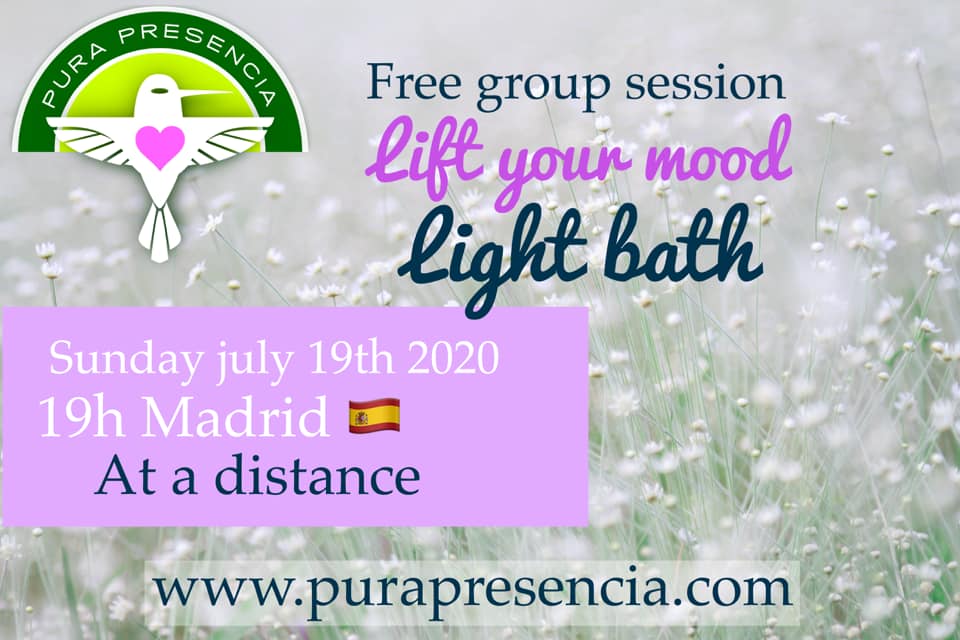 FREE GROUP SESSION
Lift your Mood /Light Bath session
Date: Sunday, July 19, 2020
Time: 19h Madrid Spain, calculate your time zone
Session in the distance
Session purpose:
Help all people suffering mentally, emotionally, energetically, physically and spiritually the negative consequences of the global situation caused by the supposed "bug" and confinements, abuse of power over the population, unrest and general insecurity caused by the situation, lack of information, lack of integrity and based on the highest good of all.
Who can participate in the session:
Anyone sign up in the original post at the following FACEBOOK link.
Or else through our Youtube Community Post
If you add other people, ask permission. Minors always with permission from their parents.
We do not attend to individual questions. It is a group session, we focus on the group.
What to do before the session?
Open up to receive the best of the session with an affirmation like: "I open to receive ONLY the best of this session for my highest good, thank you."
What to do during the session?
You can be meditating or doing your things, because we work with your subtle field at group level
What to do after the session?
Drink water and if possible rest. Things can move, it is normal, it takes a while to integrate the energy sessions, it is normal.
Session organized by: Barbara Meneses, Baj-Pendulos Spain Pure Presence, free from bondage for the highest good of all.
Blessings,
Hope it helps you
Barbara Meneses