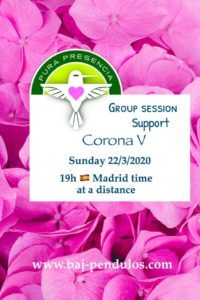 FREE GROUP SESSION
CORONA V FRONT SUPPORT
DATE: Sunday, March 22, 2020
Time: 7pm Madrid Spain time
Session in the distance
Session Purpose:
Bioenergetically and emotionally support spiritually all who wish to participate by writing their name under this post.
If you do not have Facebook you can add your name to our Youtube post HERE
After the session: drink warm water and rest.
We do not answer individual questions
Session facilitated by Barbara Meneses Baj Pendulos Spain Pure Presence.
WE CLOSE THE LIST 30 min Before the session deleting this post.
—————-
www.baj-pendulos.com