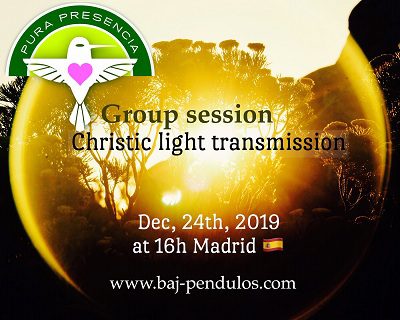 Our second Xmas Gift to all
FREE GROUP SESSION:
Christic Light Transmission
When: December 24th 2019 at 16h Madrid Spain time
What is this? A Group healing session performed at a distance, by Barbara Meneses from Baj Pendulos (www.baj-pendulos.com) in support of all those who during these Xmas holidays might feel alone or else in need of Loving and nurturing Christic energies. Of course ALL those who wish to receive this blessing can join in even if not feeling alone or sad..
How to participate: Write your name below, if you add someone ask their permission.
We do not answer individual questions from these sessions. After the session, drink plenty of water and rest.
Wishing you ALL a phenomenal Winter Solstice, Xmas period and excellent 2020!!!
Blessings
Barbara Meneses
————–
www.baj-pendulos.com