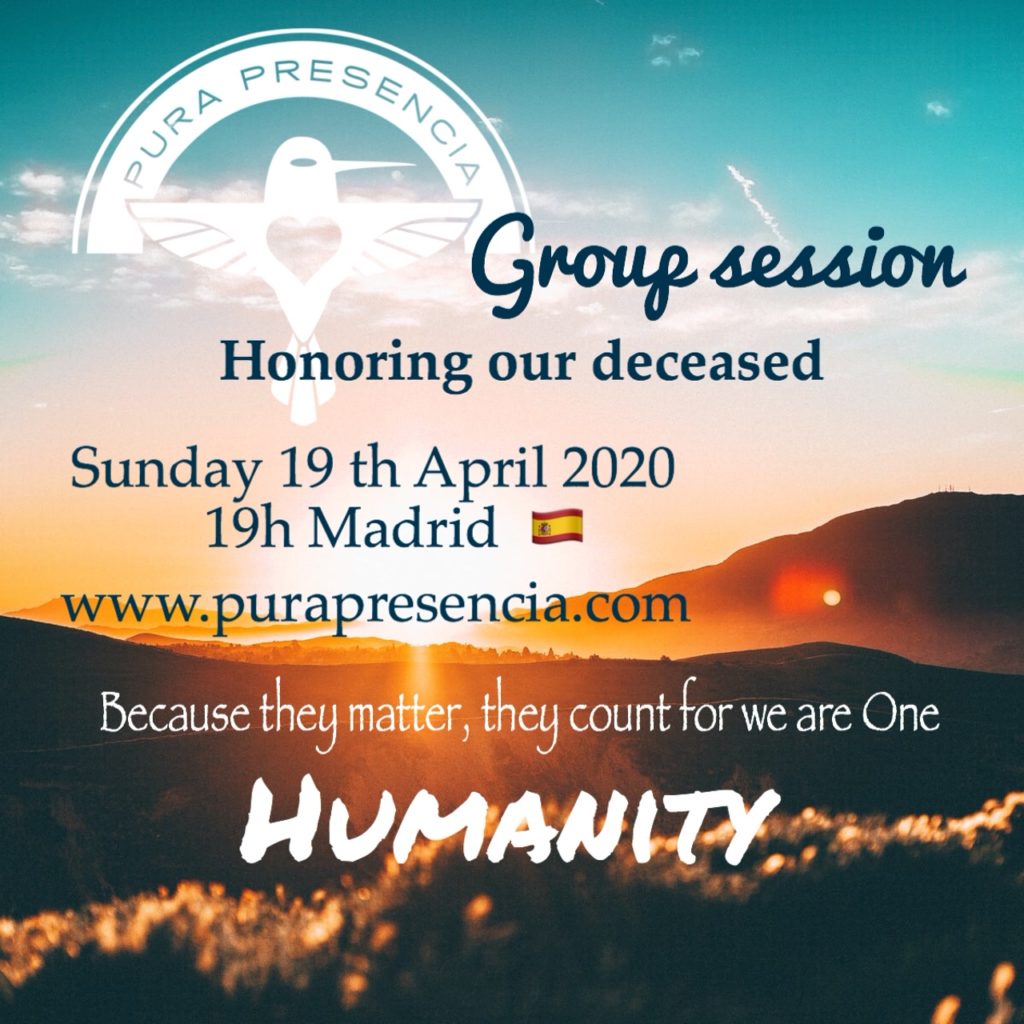 Free group session Honoring our deceased ones
Date Sunday April 19
Time: 19h Madrid Spain (calculate your time)
Purpose and focus of the session:
Many people are crying alone, feeling misunderstood, abandoned in the face of the helplessness they are experiencing.
In order to heal our wounds and resolve the traumas we are experiencing collectively, we must be able to mourn for our dead and make a closure, a ceremony, a ritual, a process that allows us to rest feeling that our loved ones are honored, loved, cherished and respected.
This session aims to do this, to celebrate a collective ceremony honoring each of our dead, from a space of love and absolute respect, transmitting energy and frequencies of Love and Light to accompany them in their process of transition to a new form of existence for them, while we bless their lineage both in the generations above and in the generations below.We witness collectively our loss and together we unite in the celebration of those who have passed and provide Spiritual and emotional comfort for those who remain on Earth.
We will work with our dowsing tools to promote this light transmission of benevolent energy for our dead and those in mourning crying for their loved ones.
Who can participate: All those who have deceased relatives, people suffering a mourning Grief and loss process, all those who feel the need to receive support from the Light and Universal Love.
PARTICIPATE THROUGH OUR FACEBOOK PAGE
PARTICIPATE THROUGH OUR YOUTUBE POST
Session facilitated by Barbara Meneses, Baj-Pendulos Spain-Pure Presence with absolute love and respect.
What to do during the session? Focus on your loved ones, open yourself to receive the best of this session for your highest good.
What to do after the session? Drink water, rest. You can feel emotional, it is normal, give free rein to crying if it is what you feel … love each other a lot in the process.
Blessings
Barbara Meneses
——————-
www.purapresencia.com