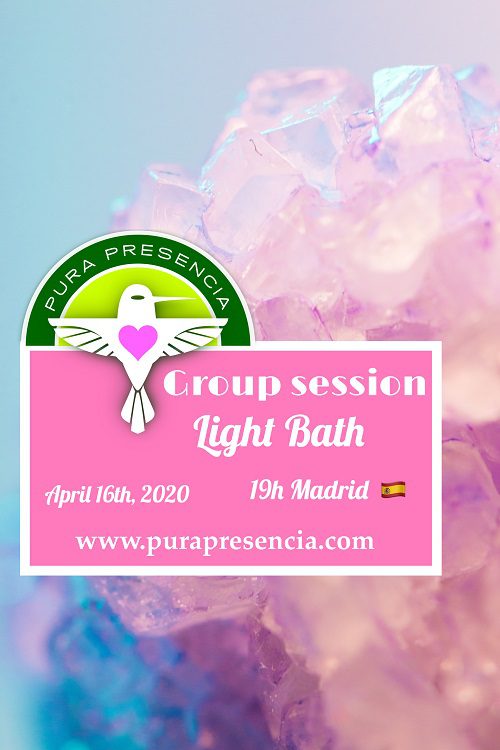 GROUP SESSION IN SUPPORT DURING THE PANDEMIC
LIGHT BATH
Date: Thursday 16th April 2020
time: 19h Madrid Spain (calculate your time zone)
Session purpose: We hold free group sessions periodically and since the pandemic began we have doubled or tripled our sessions to support you all in the best way we feel.
The Light Bath sessions can be considered as aura cleaning sessions, spiritual harmonization, connection with the Source, transmission of luminous energies to help us in all areas of our life through LIGHT and Light frequencies.
Who can sign up: All those who register their name under the original FACEBOOK post by following the link below:
https://www.facebook.com/BajpendulosSpain/photos/a.500993363406461/1459488554223599/?type=3&theater
Or else on our Youtube community POST
If you add family or friends, ask their permission. Younger children do not need permission if their parents are the ones adding them.
What do you have to do during the session?
Nothing just to receive it, it is in the distance, you can make a statement like: "I open myself to receive only the best of this session without ties, thank you."
After the session: Drink water and rest, things can shift, and you can feel tired because you will be integrating and "digesting" the transmitted energies.
Facilitates the session: Bárbara Meneses Baj Pendulos Spain-Pura Presencia
We have been "told off" for not giving the option to make donations. We are NOT asking you for donations, but if you feel that you want to do it FOR YOUR SAKE, here is a link:
https://www.paypal.me/Bajpendulos
We thank you infinitely but it is NOT necessary, we want to offer this FREE service selflessly and from Love.
Blessings
Barbara Meneses
————–
www.purapresencia.com