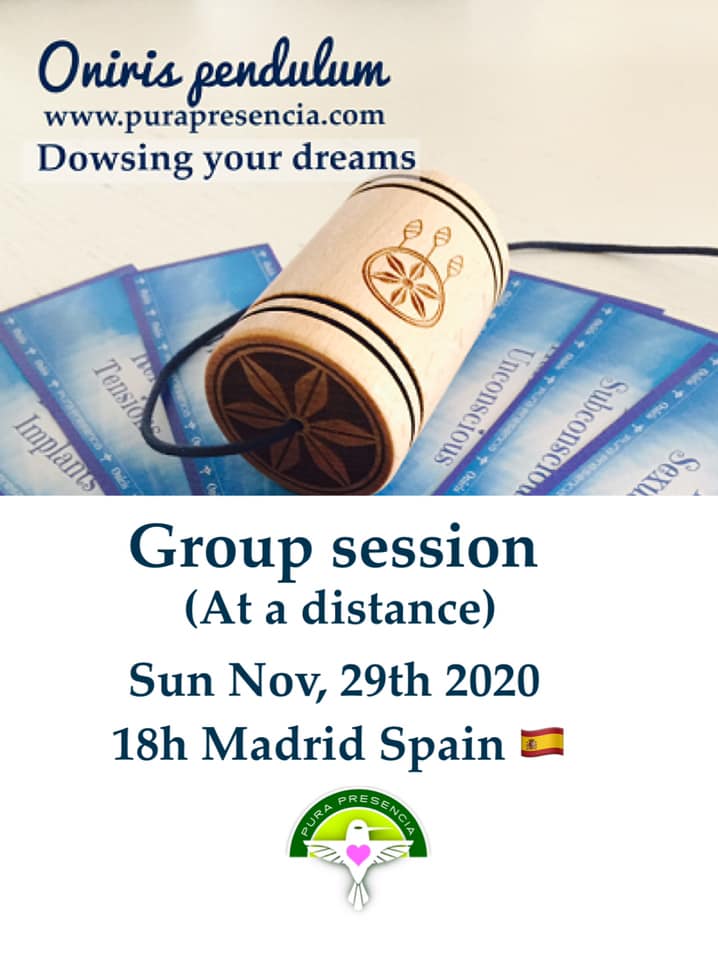 ONIRIS PENDULUM GROUP SESSION
At a distance session, not live nor on video
Date: Sunday 29 November 2020
Time: 18h Madrid Spain In the distance (It is not Skype or zoom or video) calculate your time zone with a time zone converter
Who can join: all those who write their name under this original post in the following link: (Ask permission to those who aim)
Sign up under this FACEBOOK post
https://www.facebook.com/BajpendulosSpain/photos/a.500993363406461/1657595847746201/
Or else this Youtube post:
https://www.youtube.com/post/Ugz8-NgD2ALl1Z2vZG14AaABCQ
Session purpose:
Carry out a SIMPLE cleansing of our psyche at an energy level using the Oniris pendulum. We will take the opportunity to clean up to the maximum by focusing on all the tension related to the global situation we are experiencing this year.
Due to the fact that this is a group session, we cannot work analyzing a dream that is the purpose of this pendulum and the dowsing work with this tool, but we can perform a simple session that helps the group to clarify energetically and vibratoryly our mind, our psyche, freeing it of dense energy and over-saturation of data and information .
What to do during the session: simply open up to receive only the best of the session as long as it is for your highest good.
What to do after the session: drink water and rest
Organized by: Barbara Meneses, Pura Presencia, session free from ties.
More information The Oniris Pendulum