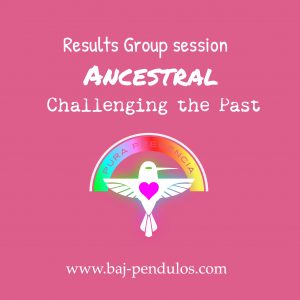 ANCESTRAL GROUP SESSION/ CHALLENGING THE PAST
The level of entanglement of the whole group in relation to the ancestors (unfinished business of the Ancestors affecting us today in relation to past issues) was high, an 8,2 out of 10 (scale 0 to 10) this can be due to the fact that we are all collectively being triggered by the North Node/South node axis in Cancer (Mother, Maternal lineage)-Capricorn (Father, paternal lineage).
We worked through the session to transmit Divine Light to 12 generations of ancestors in the Maternal and Paternal lineage of each pariticipant of the Challenging the Past (more than 100 persons from both Spanish and English facebook pages of Baj Pendulos Spain).
The transmission was performed with the Siddhi pendulum following an ancestral process to bless and support the healing and lifting of the ancestral wound in both lineages.
The session was very long, the need of Light of our ancestors was really high. Us westerners do not have strong traditions supporting regularly our ancestors and so the need for light was big.
After the session the level was reduced to 5,1/10. More work needs to be performed but we leave it up to you.
At the end of the session, a message came with 2 Archangels pointing at the root chakra and the seventh chakra. Gabriel (root) and Uriel (7th) these spiritual forces are going to support our axis if we so give permission (if not simply ignore the offering). This will help us have a stronger stance in the present moment, stable and with clear vision and perception).
This ends 4 weeks of energetic and spiritual support to those who have taken on board the practice of the Challenging the Past.
On the 30th June at 12 noon Madrid Spain time we will draw a name from the list of participants to the challenge and see who will win a Reiki Master Pendulum+shipping costs in Spain or its equivalent in money (PayPal) for those living abroad.
This challenge is an initiative of Barbara Meneses Director of Baj Pendulos Spain in service to the highest good of all.
We wanted to help lift density due to the past. We hope it has helped you.
Best wishes
Barbara Meneses
————–
www.baj-pendulos.com