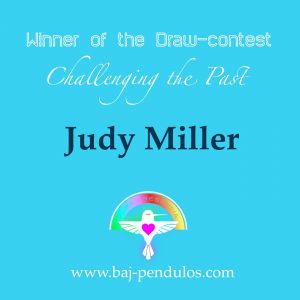 RESULTS CONTEST CHALLENGING THE PAST
The Winner of this contest among 94 persons participating in the Draw is:
JUDY MILLER
congratulations Judy
You have won a Reiki Master Pendulum+Manual+Shipping cost to Spain OR the equivalent in cash Paypal money payment 74 euros.
Please contact us privately so we can arrange your price in accordance to your preference.
It has been a real pleasure to hold this Challenging the Past contest for 30 days, with more than 4 group healing sessions supporting the 100+ participants to this practice of avoiding to speak/think about the past for 30 days, returning to the present moment when we became aware of our dropping into the past.
For those who have not won the contest, you have gained immensely if you truly practiced for 30 days these steps. You have cultivated the inner muscles of conscious awareness, will, pure presence in the moment and this is far more rewarding than a price in cash for you can take this practice now with you and free yourself from the habits of falling into past stories, dramas etc.
Congratulations all of you, it was a pleasure walking along with you for these 4 weeks
Blessings
Barbara Meneses
—————–
www.baj-pendulos.com