Description
Dowsing and Tele-radiesthesia chart
AURA AND BODY CHART- PDF ENGLISH
We have developed this Chart having in mind our students and the work we perform in pendulum healing, combining both forms of radiesthesia: mental and vibratory radiesthesia.
This chart helps you heal and diagnose the Human subtle anatomy and the physical body, working with layers of the aura, chakras, central axis connection, grounding and the skeletal system, muscular system and main body organs.
The Chart also displays easily measuring methods to check the energy and degree of balance of anything, such as chakras. It also has a scale 0 to 10 to help us ask any question under those parameters, that can be easily translated into a scale 0 to 100, 0 to 1000 depending on the dowser´s need. We have chosen this measuring way because not many persons truly know what a Bovis unit is and numbers are Universal in nature and easily understood by any one.Keep it simple!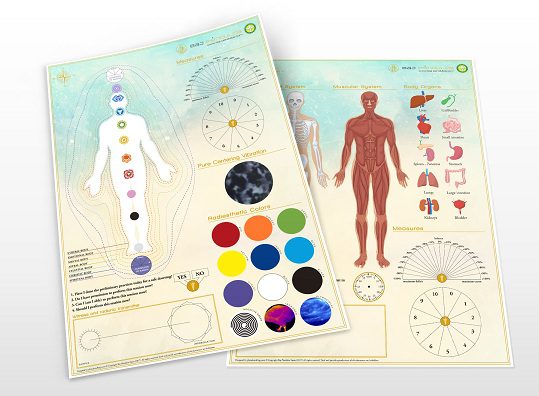 The Chart also reflects a space for a Witness card and a simple yet powerful radionic transmitter. It has all the radiesthetic colors commonly used in classical vibratory radiesthesia plus the Centering vibration which we use when we create most of our pendulums in Baj Pendulos Spain.
The Chart can be used to work in tele-radiesthesia, pendulum healing at a distance by establishing a connection with your client with a Witness card as explained in the instructions of the chart. You can heal the aura, the energy field of physical organs, systems, skeletal body etc. You can also impregnate with radiesthetic colors parts of the body or energy field of your client. You can align and balance their Heaven-Earth connection and improve their grounding. This chart is indeed a multipurpose chart.
The printable chart comes with user friendly instructions (PDF) and tips on how to work with it and simple dowsing commands to start working with it.
For optimal use, print the Chart and LAMINATE it.
Product details:
PDF printable format high resolution, you will receive a link to download these two optional sizes: (pls write to us if you do not receive the email).
ANSI B (11.0 x 17.0 inches)
A3 size: (297 x 420 mm  or else in inches:11.7 x 16.5 inch).
This purchase allows you to print this Dowsing chart poster ONLY for your private use or healing practice. Not for distributing to others or copying it or resales etc. Please respect our work thank you.
Once making the Paypal payment, you will be redirected back to this page where you can see 3 download links. Click on them to download your files. If you have any difficulty due to technological glitches, please write to us, we are very responsive and will help you and send you manually the chart via email. Also, remember to WRITE CORRECTLY your email or else the confirmation email will reach someone else or be lost in cyberspace!.
Legal Notice:The purchase of all of our Dowsing charts in pdf, implies the conscious acceptance that you will not copy/share/sell/distribute this material in pdf, photo, video or any other format, nor print physical copies for selling/distribution/teaching purposes through any mechanical, photographic, or electronic process for public or private use without prior written permission from Baj Pendulos Spain. Thus, when you purchase this chart you may print a copy for your own PRIVATE USE exclusively.
Designed graphically by pleaiadescalling.com © Baj-Péndulos Spain (2017).