Description
Reiki and Teleradiesthesia chart (PDF)
A chart ideal for Reiki practitioners and dowsers. As a Reiki Master/Teacher, this is the chart I would have always wanted to have, in order to gauge quickly and effectively the degree of blockages in the energy field of my clients and their degree of intensity.
This is an attuned chart. The Reiki symbols and images of the Reiki Kanji have been attuned to the highest degree of vibrational frequencies of Reiki in their purest form having checked the integrity of the transmission. The symbols are emitting the vibrational frequencies representing their essence so that someone can impregnate a pendulum with these energies and transmit them to their client following the instructions in the booklet provided with the chart.
The Reiki Dowsing chart comes with a full body and aura anatomy figure to help us comb the aura of our clients prior to the session. We can do this with the Reiki Master pendulum or else your healing hands or any other pendulum of your choice.
You can also work on all the Reiki body postures which are explained in great detail on one of the sides of the chart. Each posture is explained in terms of physical, mental and emotional benefits. By holding the pendulum over the Reiki Points you will be targeting these specific areas and purposes with teleradiesthesia.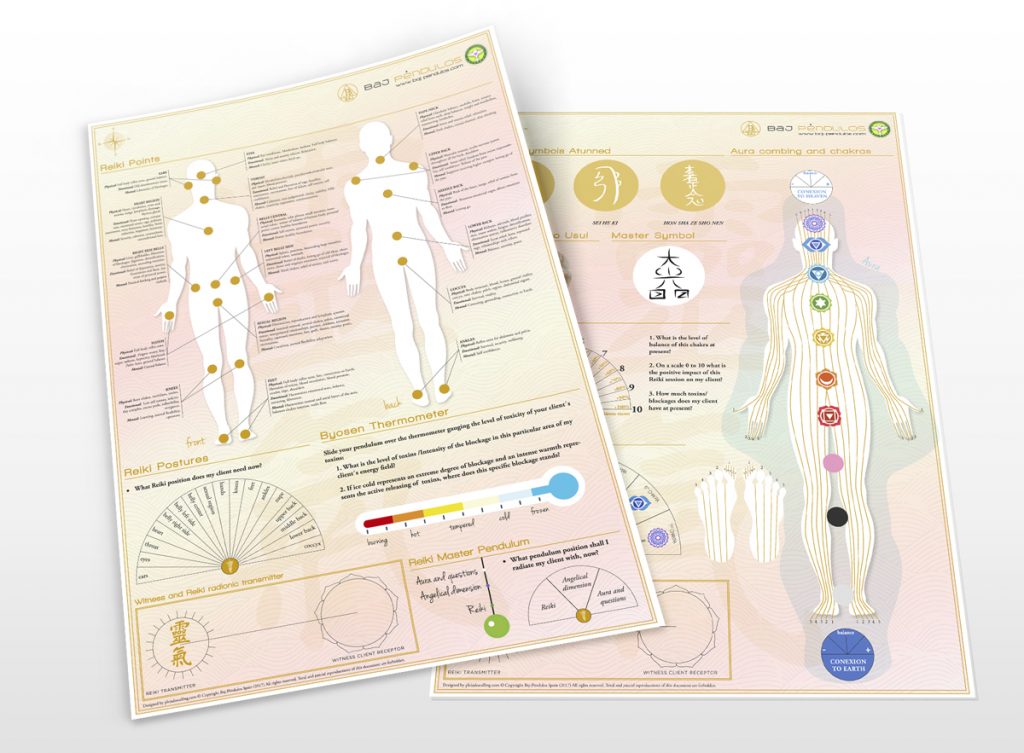 This chart will also help you:
Determine which chakras need clearing/support
Which body parts need Reiki (select Reiki postures to best tailor your session for your client in accordance to their goals/needs)
Determine the number of energetic blockages and their degree of intensity by means of the Byosen thermometer
Transmit Reiki through a specialized radionic transmitter of Reiki energies.
Impregnate your pendulums (use pendulums such as Karnak Black) with Reiki symbols to target specific purposes during your session
Select the positions of the Reiki Master pendulum to focus its energies on different purposes: Reiki, Guidance, Angelic protection.
And much more.Use your intuition to maximize the use of this chart.
Product details:
In ENGLISH. PDF double chart (2 pages) both in ANSI B format (USA) and A3 format (Europe and other countries).
Booklet with instructions of use to maximize the chart.
PDF for one person´s private use or in therapy ONLY.
IMPORTANT: IF YOU DO NOT RECEIVE A CONFIRMATION EMAIL WITH A DOWNLOAD LINK, PLEASE WRITE TO US AND WE WILL ASSIST YOU ASAP.!
Legal Notice: The purchase of all of our Dowsing charts in pdf, implies the conscious acceptance that you will not copy/share/sell/distribute this material in pdf, photo, video or any other format, nor print physical copies for selling/distribution/teaching purposes through any mechanical, photographic, or electronic process for public or private use without prior written permission from Baj Pendulos Spain. Thus, when you purchase this chart you may print a copy for your own PRIVATE USE exclusively.
The Reiki Dowsing chart has been designed by Pleiadescalling.com for Baj Pendulos Spain.