Description
Soul Doula Label Set: Soul Healing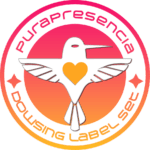 Manual in PDF, Physical Labels, Dowsing Sheet in PDF English
(Compatible with classic Hebrew Pendulum "Metutelet", Pura Presencia´s Pendulum Collection: Neshama (Hebrew), Rahma (Essene), Mahasiddha, Rigpa, Oniris)
LABEL APPROACH
From the deepest connection and Love we have created a set of labels to accompany the Soul (Human, Animal, and otherwise) in its processes, especially the process of Birth (we can be physically born or reborn in internal transformational processes of renewal) and transit through the threshold of Death (whether it is a physical death of the body or an initiatory death that is part of our evolutionary process releasing identities and "clothes" to embrace a new, more expanded Self).
The Soul Doula set is made up of 36 labels that will allow us to work on a wide variety of situations and states through which a Soul goes through as she transits these great transformation processes. With the set we can accompany therapeutically froma  Spiritual dowsing perspective focused on helping the Soul in such delicate moments from a space of deep love, compassion and the creation of the sacred space necessary to favor the best possible transit towards the next phase of the existence of this Soul.
The Soul goes through a series of rites of passage throughout its physical experience. These labels can help you and your clients, navigate those crucial moments in your life in the most harmonious way possible.
The Set aims to help the Soul reconcile with itself, reconnect with Source, pacify his/her relationships, resolve conflicts that prevent him from releasing and letting go and can continue to its next phase, protect him during the transit, heal on an energetic, emotional, Spiritual level and much more,  creating a Sacred space, providing deep caring and therapeutic companionship from a loving and non judgemental space.
The set of labels is physical and cannot be photocopied. They lose their vibrational property.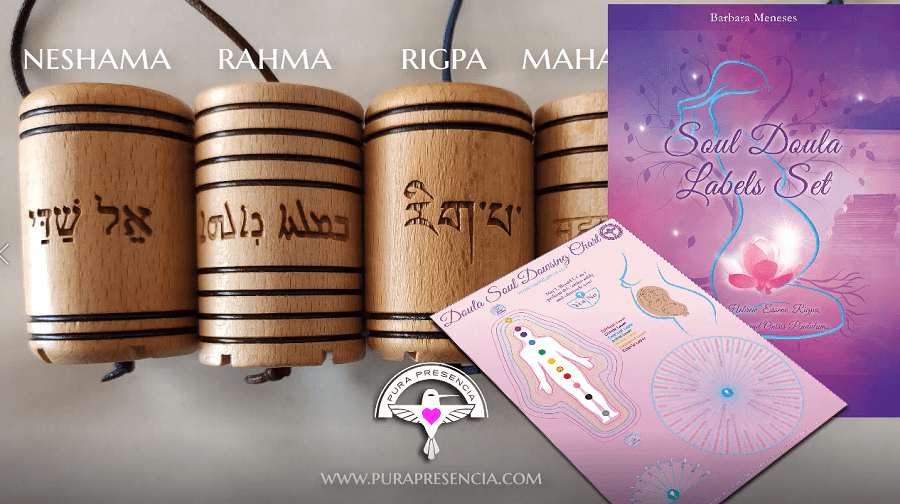 THE MANUAL
The 80 pages Manual that accompanies the set is NOT a course in dowsing nor is it intended to replace it. It lays the foundations of the therapeutic work that can be carried out with these labels and offers us a dimension of the role of the therapist (dowser in this case) of deep accompaniment that can be done by helping those who come to us at a time when their Soul needs our help. helps energetically and spiritually.
The explanation of each label It is not exhaustive because each label opens up a world of possibilities for growth and enrichment with the subtle work that we can do with them. They are Initiated Keys that elevate our work to the deepest spiritual plane where we can provide the help that is being asked from us.
Labels can be combined in endless combinations and variations focused on the intention with which you are working. the current situation and the objective of the session.
This set can be used alone in a session exclusively focused on Deep Soul Caring or as part of a general session or focused on other concerns of your client. In other words, this set can be perfectly integrated with the working methodology of each dowser as an added set of remedies in their dowsing tool box.
A6 Format 80 Pages Manual English in PDF
DOWSING CHART SHEET PDF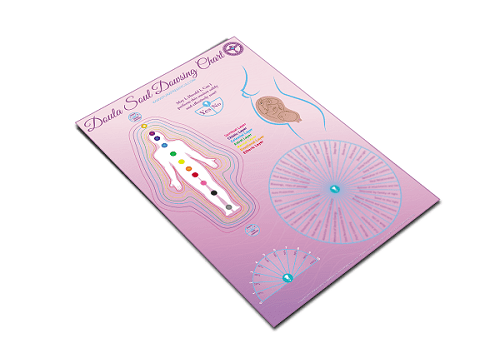 The Set is accompanied by a simple sheet of dowsing in A3 format and Ansi Format B in PDF (English) to be able to navigate by selecting the labels and determining the ideal place from which to work on the physical body of a person.
WHO CAN USE THIS SET
Any dowser with some experience especially in the handling of pendulums of the Hebrew type (Metutelet).
Men and women called in their therapies to help at a soul level their clients, family, friends, animals, the Earth, everything that has a soul in need of help.
The word "Doula" is not used here in terms of gender. We can all be "doulas" of the Soul, when we have the disposition and inclination to be it and at a given moment life and the Source place us in that position so compassionate, loving and welcoming for the Soul in pain, suffering, bewilderment, confusion or transformation.
IDEAL PENDULUMS
The Set is sold WITHOUT a pendulum. To do this, the dowser can select from his collection of pendulums which is the one that best suits the needs of his client in a session in which these labels are to be used.
The labels have been made to be worked with pendulums in the Hebrew style, the classic Metutelet. Among our collection of pendulums, we have different variants such as:
The Neshama Pendulum, Hebrew (our version of the classic Metutelet)
The Rahma Pendulum, Essene (pendulum connected with the Essene Light and Wisdom)
The Mahasiddha Pendulum (a pendulum connected to the Sanskrit world, the tradition of the Siddhas, spiritual liberation)
The Rigpa Pendulum (a mind-transforming, liberating focus pendulum)
The Oniris Pendulum that works from the perspective of dreams (life being also considered a dream)
Working with the Soul Doula Set in combination with each of these pendulums will offer us different nuances and subtleties due to the particular vibrations of each of these pendulums that are added to those of the labels. It is like creating a perfume with a different bouquet depending on the ingredients that we add to our combination.
If we have several pendulums from our Pura Presencia collection, in sessions with clients we can test with which pendulum we will work best with the Soul Doula Set in the specific case of the session and the type of client (family member, friend, animal companion) with whom let's work.
POSSIBILITY OF ATTUNING THE SET
We can attune  the Soul Doula Set to his/her future owner. To do this, in the NOTES section when making the purchase write us your name, surname, date of birth. Thanks.
There is no need to attune the set. It is an offering that can enhance work and affinity with the set and its vibrations.
 PRESENTATION
SOUL DOULA GROUP SESSION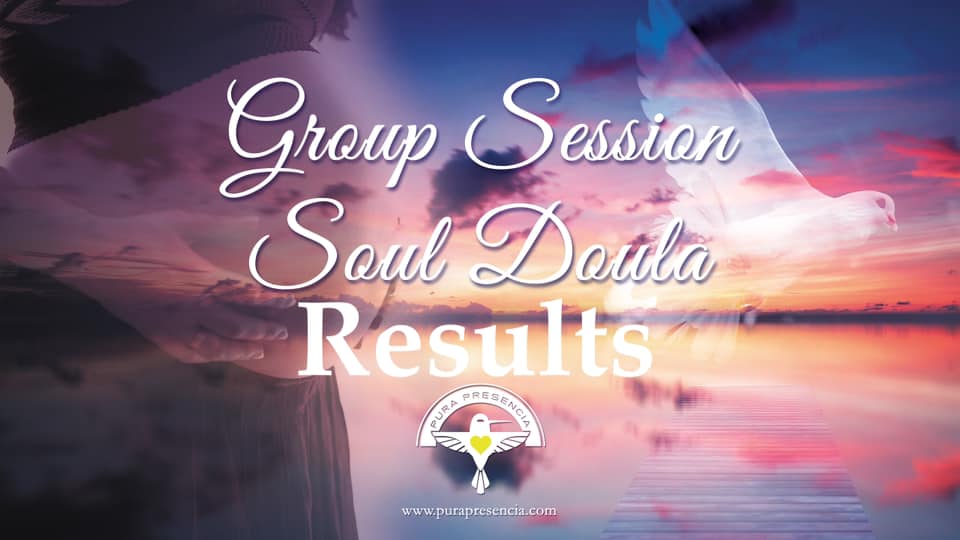 We performed a Group session with this set you can listen to the results HERE
PRODUCT DETAILS
Set of 36 individually tuned and energized physical labels on special fabric
80 pages Manual in PDF format A6 in English with explanations on the work approach and labels
Dowsing sheet in PDF formats A3 and Ansi Format B in Spanish
Set compatible with: Metutelet Pendulums (Hebrew), Hebrew Neshama Pendulum, Essene Rahma Pendulum, Mahasiddha Pendulum, Rigpa Pendulum, Oniris Pendulum
Does NOT include pendulum
Physical cleaning of the labels: with a soft cloth.
Energy cleaning of labels: many do not need cleaning. If you feel that you need it in the manual there are explanations on how to do it.
Possibility of attuning the set to its owner. Write us your name, surname, date of birth in the Notes section.

A  Pura Presencia™ product offered with Love and Conscious Intent
Please do NOT photocopy or contribute to any form of piracy with our work. This will result in loosing ALL beneficial energies from our products and will introduce the vibration of lack of integrity in YOUR work.
Thanks for your integrity.