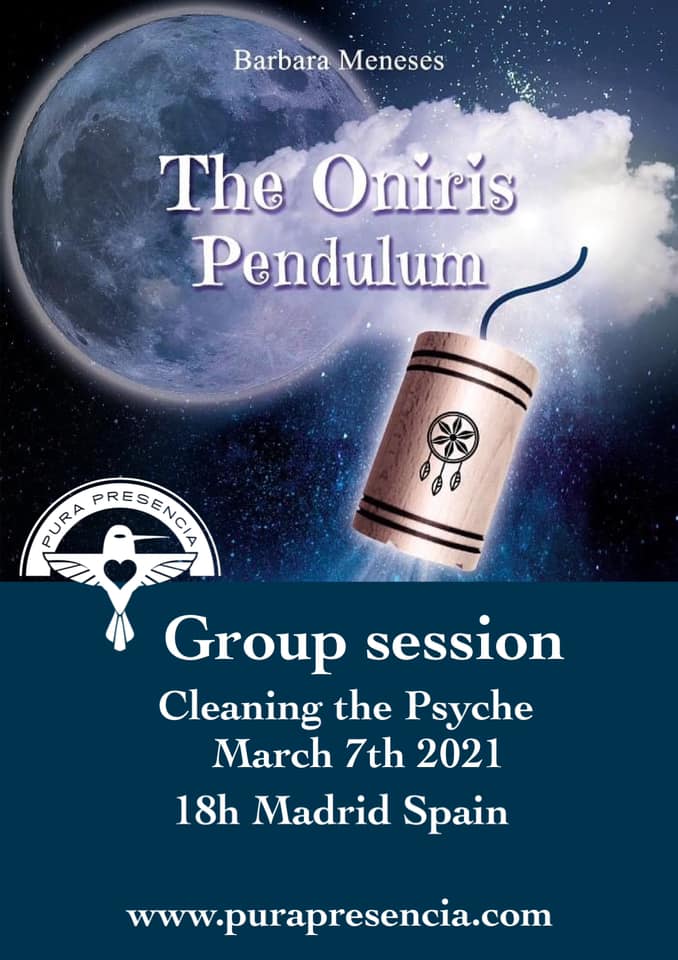 Group session Cleaning the Psyche
Date: Sunday 7 March 2021
Time: 18h Madrid Spain (calculate your time zone) at a distance: It is NOT recorded or online.
Session purpose: With the Oniris Pendulum specialized in working the Psyche, dreams, we are going to help perform a SIMPLE cleaning of the Psyche of all that material, dense information accumulated in us that can be released at this time to help us enjoy a Clearer and freer mind. Obviously we work in a group and we do not focus individually so the results will vary from person to person.
Who can sign up: Who signs up (with permission if you sign up to other people) under this  FACEBOOK POST
https://www.facebook.com/BajpendulosSpain/photos/a.500993363406461/1739780342861084/
Or else this YOUTUBE POST:
https://www.youtube.com/post/UgwvvlABLgtkBGk8uOV4AaABCQ
What to do before the session: Decree that we open ourselves to receive ONLY the best of this session as long as it is for our highest good. If today it is not for your highest good to receive this session, you will not receive its results. An excellent and respectful way to protect yourself and your processes and evolutionary path.
What to do during the session: you can do your planned activities, or sit and relax consciously receiving the results of the session, as you prefer
What to do after the session: drink water and rest. It is important to drink water.
Session organized by Barbara Meneses, Pura Presencia. free from ties, for the highest good of all.
More information the Oniris pendulum a specialized tool for DREAM DOWSING  (check out our Online Course on Dream Dowsing )