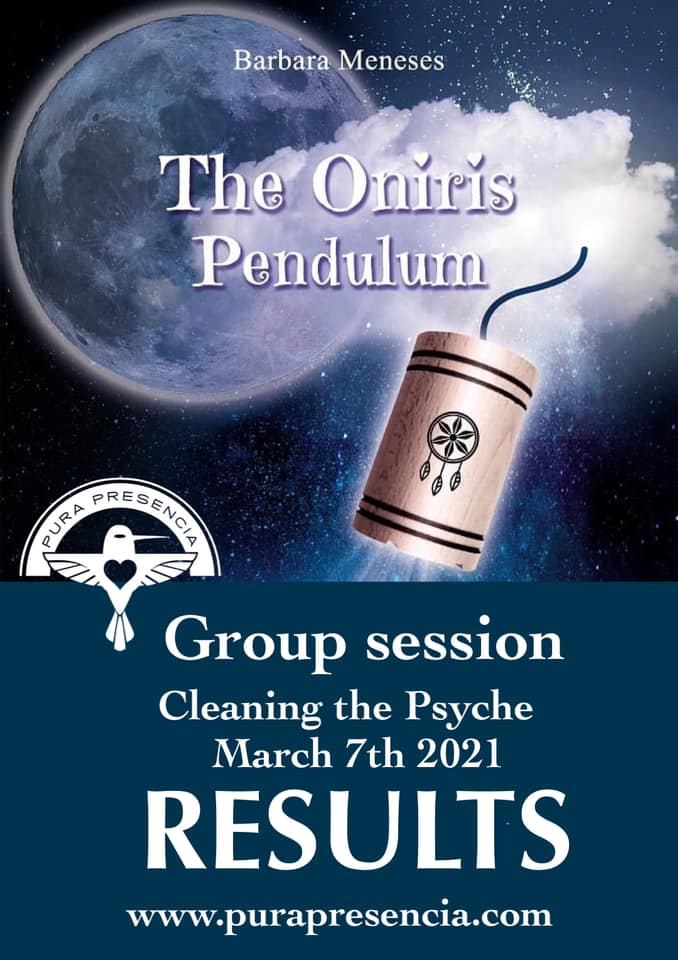 GROUP SESSION RESULTS
PSYQUE CLEANING
Sunday 7 March 2021
On a scale from 0 to 10, the general level of cleanliness of the group's Psyche was before the start of the session at 4.3 out of 10, 10 being the level of perfect cleanliness.
We have worked with the Oniris Pendulum and 11 of its 60 labels in order to facilitate this cleaning.
For this we have undone negative, false images in our psyches, we have neutralized harmful frequencies, undone falsehood, released accumulated tensions, enhanced the cleaning of our subtle bodies in relation to the Psyche, we have undone manipulations, we have closed harmful portals that were open, we cleansed the psyche, strengthened the aura of the participants, in those aspects of the aura connected with the psyche, and finally we have strengthened the Connection with the Source of our Psyches, that which each one of you considers as the Source, its source.
At the end of the session, the Psyche of the group has been clean on 10/10, this does not mean that forever and ever the Psyche will be this clean … because as a result of our habits, conditioning factors, the influences we receive, we can fall back into negative patterns that affect us and "dirty" or contaminate the Psyche.
We hope this is helpful to all participants.
END SESSION MESSAGE
Yeshua gave us this message:
" We have cleared some of the cobwebs that cloud your perception of Truth. Truth is your guiding force, the Light that keeps you going in the Dark. Stay close to Truth for it will serve you well. Be preent in the Light of Truth, let everything be filtered through the Light of Truth and your Psyches will return to their pristine natural states, how they were intented to be. Be blessed in the Light of Truth". Yeshua, The Christ,
Upon finshing the session I asked what are we currently learning, actualizing within ourselves those participanting in this session:
Apparently, we are going through the lesson of PRESERVATION.
Preserving is being able to maintain, sustain, conserve, something already acquired without "losing" it, wasting it, releasing it …
Preserving is a capacity closely connected with cellular and symbolic REGENERATION in our lives.
It is being able to hold a container, a cup, without dropping it… without breaking it … without distracting ourselves… without being taken away.
We preserve nature because we recognize it as sacred, precious, essential.
May these clues help you to meditate and integrate this learning of preservation. Well, it is important to know how to preserve, in the same way that it is important to know how to release what is not necessary …
Drink water and rest
Session performed by B. Meneses, free from attachments, for the highest good of all
www.purapresencia.com
we worked with the Oniris pendulum. a tool specialized in working with the Psyche and the Dreamworld. We have also an Online course availabe on Dream Dowsing