Description
Menopause Pendulum
This is a pendulum with a specific charge of herbal remedies in support of Women´s issues during this vital life process. When reaching menopause, the feminine Psyche goes through profound transformations. Part of the neglected feminine issues that were not attended during other periods of our lives surfaces to the forefront of our Psyche during menopause. Thus, many women suffer from a real internal revolution with different voices within her claiming to be listened to and attended as a sense of urgency creeps in  to resolve unfinished issues in relation to the cyclical nature of womanhood.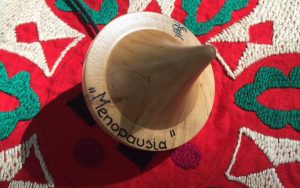 This pendulum can be a vibrational help for such a delicate process as well as a deeper Dowsing or pendulum healing work. In Baj Pendulos Spain we are specialized in feminine issues and we can provide healing working on the Goddess within and her multiple aspects. We have been trained in The Sacred Feminine arts. Don´t hesitate to book a session. This can be a
–Bioenergetic session with the Lecher Antenna
The Menopause pendulum has among others the following ingredients:
Nettle leaves, lemon leaf balm, valerian, evening primrose, red clover, licorice root, dandelion root, DHEA, vitamins E and D.
Product details:
Pendulum+ Basic instruction Manual for all therapeutic pendulums 18 pages PDF english
Beech wood, Osiris head.