Description
Universal Pendulum Set (Custom Made)
This set is ordered by upon demand with English coding. We have in stock this set with the coding in Spanish.
This set is the culmination of Jozef Baj´s lifelong research in vibratory radiesthesia. It is a classical set with 49 pendulums.
The set is composed by
The "

elements of life", the necessary micro- and macro-elements for the proper functioning of the body (Cu, Fe, Zn, Sb, Bi, Br, Cl, Cr, F, P, Al, I, Cd, Co, Si, Li,

Mg, Mn, Mo, K, Se, S, Na, Ag, V, Ca, W, Au).


A

Set pendulums' natural medicine " that contains a unique herbal, beneficially affecting the organism (Climactero, Amber, crystal, Mumio Propolis, Sex, Una de Gato, Eternal youth, Ginseng, Pau D'Arco).
Pendulum " Isis' beech wood.
" Osiris " – the battery.
" Osiris " – tele.
" Osiris " – hemispheres reinforcement (3 pieces).
The pendulum neutral.
The pendulum with memory BII.
The pendulum preventive acacia.


Two pendulum spare.

Wooden strip to work in tele-radiesthesia.
Extra cords for pendulum use.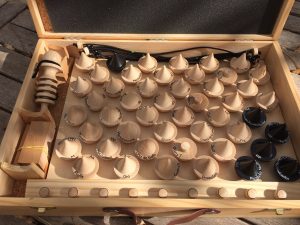 Custom Made: Please allow at least 30 days as these sets are custom made. Check with us before hand in case we do have in stock.
Disclaimer: pendulums are no substitutes to proper medical care
Product details
Pendulum+ Basic instruction Manual for all therapeutic pendulums 18 pages PDF English
A wooden box with all the set included.
Box Size: 38cm x 26cm x 7cm
Weight:
Material: Beech wood.