Description
Manual and Dowsing Chart "Dowsing and Toxins" PDF English
Physical and psycho-energetic toxins are important to take into account in Dowsing sessions. The presence of toxic agents in our life generate these accumulations both in our physical bodies and at a subtle and energetic level. Being able to attend to this question can mean that our sessions improve a lot because we will be in a better position to facilitate the release of these toxins in ourselves (self-treatments) and in others.
This manual addresses this complex subject in the simplest way possible by offering very practical steps to follow in a protocol way to formulate the appropriate questions that lead us to determine the best way to approach dowsing work focused on the toxic load that our clients can bear.
The manual is accompanied by a work protocol as explanatory, complete and simple as possible that we can follow step by step at the dowsing level. It also comes with a large appendix with several lists of sources of toxicity, possible causes of accumulation of toxins, location of toxic agents in our day to day, proposed solutions or actions to take to reduce the toxic load that we accumulate in us, in our living spaces.
Uses of the Manual
With the information in this manual, the reader practicing dowsing will be able to use the information in the following ways (adapting it to his own work methodology based on his training received in dowsing:
To work with ourselves in self-treatments BEFORE doing sessions with other people.
To work with clients specifically in relation to their level of toxicity
To work on certain aspects of the client on time during sessions focused on other issues but that include an analysis of their toxic load
To work with spaces ensuring that they do not accumulate toxic load that could subsequently affect the smooth running of our sessions
To work AFTER the sessions about us and our spaces.
This manual is not a substitute for a Dowsing course or the training required by those who wish to conduct dowsing sessions with themselves and others.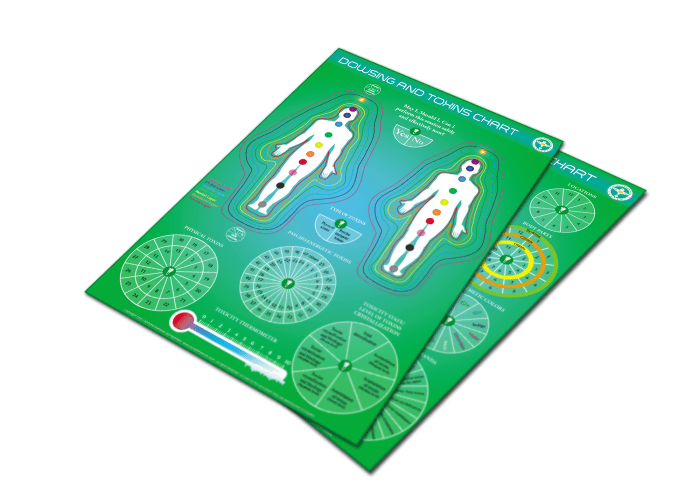 Dowsing Sheet chart PDF
The manual is also accompanied by a double dowsing sheet in PDF and color, in A3 format for printing in Europe, and Ansi B format (USA, USA). where search quadrants are reflected, specific measurements related to the toxic load of the person with whom we work and determination of solutions within our reach at the dowsing level (Poster with physical body, subtle body).
For legal purposes we address the issue of toxins from an energy perspective.
Ideal pendulums to work the protocol in this manual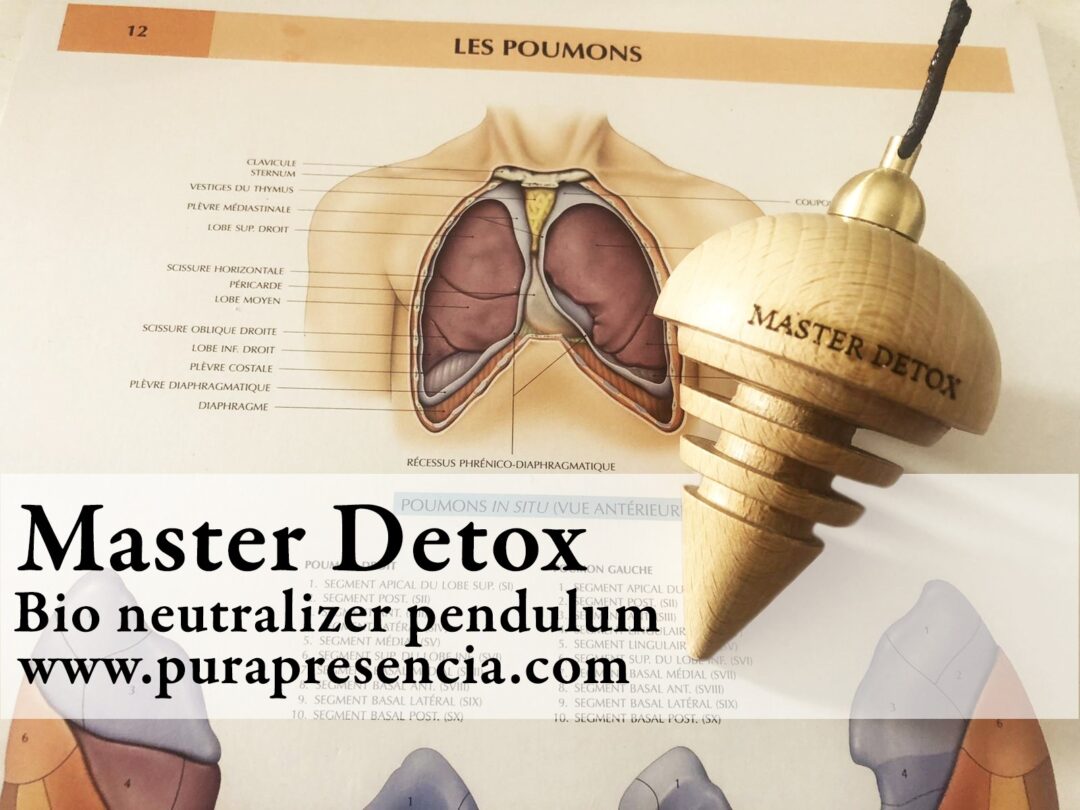 We have created the Pendulum Master Detox precisely to work with this topic. It is from our collection the ideal tool. The Universal pendulum working with certain dowsing colors can also help. (See our courses on the Universal Pendulum and Level 1 of Mental, Vibrational Dowsing and Pendulum Healing regarding the ideal dowsing colors). At an energetic-spiritual level, the Pendulum of the Violet Flame can also help in these processes. From mental dowsing we can approach part of this work with pendulums such as the spiral.
Legal Notice. Dowsing is not a substitute for the medical care required by those suffering from a clinical condition.
PRODUCT DETAILS
Manual in English, PDF format A6 size, pages 100
Double Dowsing Sheet Chart in PDF English formats A3 (Europe, rest world) and Ansi Format B (USA)

A Pura Presencia™ creation made with Love for the highest good of All.