Description
MANUAL MANIPURA, SOLAR PLEXUS CHAKRA
(Manual amd Dowsing Sheet chart, PDF English)
This manual analyzes the main psycho-energetic dynamics that affect the third chakra, the Manipura, called the solar plexus and which is the last of the lower triad chakras.
The manual addresses through 96 questions a profile of the solar plexus chakra of our client or of ourselves (if we work in self-treatment) in order to better understand the causes of possible blockages in the flow of energy and vital force through this important energy center.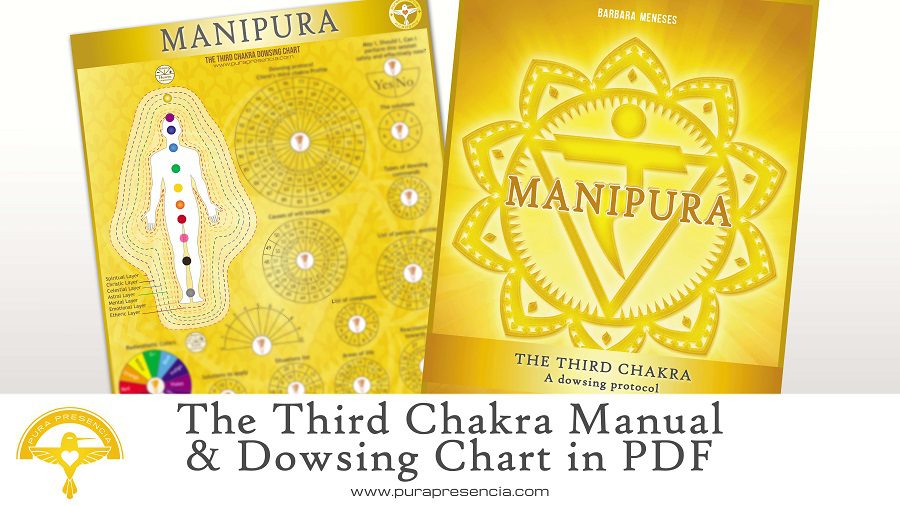 Together with the Manual, we offer a working dowsing protocol that is summarized and reflected in the dowsing sheet so that we can more easily navigate through the questions/answers that we obtain with the Protocol and the lists in the Appendix.
Both documents are in PDF and allow you to offer sessions exclusively focused on the study/analysis and provision of bioenergetic solutions for this chakra or integrate them into sessions of balancing, harmonization of the general chakra system.
IDEAL PENDULUM
We have created the Solar Plexus Pendulum from Pura Presencia to help work with Solar plexus chakra issues and work along this manual you can read all about it HERE
PRODUCT DETAILS
Manual 78 pages format A6 PDF English
Dowsing sheet chart PDF English, formats A3 and Ansi format B