Description
A Dowsing Course in Miracles Manual and Dowsing Sheet Chart PDF English
We have created a Dowsing Manual applying in a practical way some of the fundamental principles of the work A Course in Miracles in such a way that those people who are not familiar with the course but are familiar with dowsing, or those who have already done the course but also handle the dowsing can find in the pages of this manual practical inspiration on how to combine both "disciplines" to help free themselves and their clients from the oppressive web of the ego system and the pain and suffering described by A Course in Miracles (ACIM, Helen Schucman 1965-1976).
The manual in its theoretical part analyzes and synthesizes the essential principles that we have considered the most important of the UCDM due to their subsequent involvement in the practical part of the document. In its practical part, the manual offers a dowsing work protocol with initial questions that establish a Client Profile for the dowsing analysis of the studied parameters and offers dowsing and bioenergetic solutions as well as dowsing commands and subsequent questions to measure progress and the evolution of the session.
The manual is accompanied by a dowsing sheet in PDF, ENGLISH, which will allow us to navigate more easily through the content of the protocol as well as formulate the necessary measurements in our session.
The manual provides information on dowsing colors connected to the UCDM, suitable pendulums to work with.
The work that the manual proposes is very specific insofar as it aims to help free the human mind from its errors of perception by following the teaching of the Course in Miracles and its principles.
It is not necessary to have read the Course in Miracles to work with this manual as we describe in the theoretical part the basis of the approach of our work and we develop it afterwards in a practical way in the protocol. However, whoever has the UCDM may use it as a reference to expand concepts.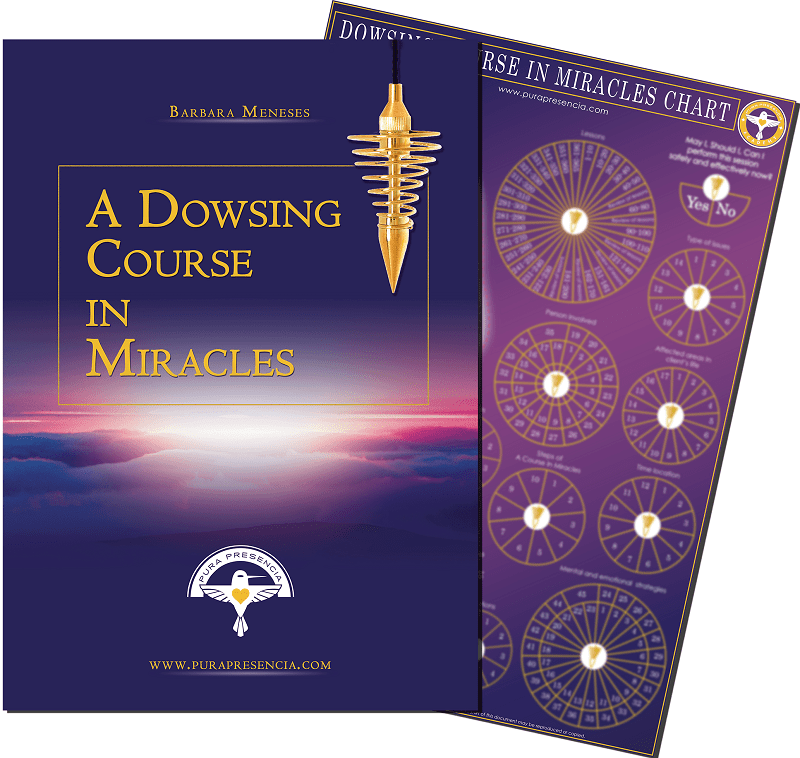 Benefits of applying this teaching combined with dowsing
It can help us improve our relationship with ourselves
It can help us improve our relationship with others
It can help us improve our connection and relationship with Source, God
It can help us free ourselves from our misperceptions
It can help us free ourselves from the oppressive structures of the ego system and its tight grip on us.
It can help us release our hold on the densest emotions and open us to Peace and Love.
Note: This manual is not a substitute for a dowsing training course required by those wishing to embark on the application of spiritual, psycho-energetic teachings combined with dowsing. For this purpose we recommend our Level 1 and 2 courses in Mental Dowsing, Vibration and Pendulum Healing, which lay the great foundations of the work that we propose from this page.
Warning: dowsing is not a substitute for medical and Psychological care required by those with a clinical condition.
ACIM, A Course in Miracles can be purchased on the page of your authorized ACIM publisher
VIDEO PRESENTATION
PRODUCTS DETAILS
Manual in PDF English A6 format pages:82
Single Dowsing Sheet Chart in PDF English