Description
Dowsing and teleradiesthesia chart: Bach Flowers
ENGLISH CHART+INSTRUCTIONS
This double poster is no ordinary Bach Flowers poster. It is an enhanced vibratory poster with the vibrational essences of each Bach Flower embedded in the image it portrays. Thus, you can use this poster to impregnate your pendulums or a water vial to generate on an etheric level your Bach flower remedies.
The poster in itself radiates high energy due to the energetic work done on the chart.
With this chart you can:
Diagnose, detect, measure and select by means of vibratory radiesthesia (the Bach Flower images) or else mental dowsing (the circular chart) the flowers you need to make a remedy.
You can prepare your remedy by using a special decagon in order to remove unwanted waves.
You can potentize your remedy with a special potentiser allowing you to increase the potency of your floral preparation to hundreds of thousands of potency.
You can transmit your flower remedy by means of a radionic circuit in teleradiesthesia mode.
You can enhance your Flower remedy by adding the energies of the Nature Deva and of the 5 elements by working to enhance the weak element(s) in your client´s energy field.
You can transmit the essences to your client (human, animal) by means of the anatomic body images in the chart.
You can charge water, creams with the vibrational energy of the flower essences embedded in the pictures of each flower.
You can meditate gazing at the images and focusing on receiving the most beneficial energies from the flowers you need the most at this time.
the sky is the limit! explore and find new ways of working with this chart!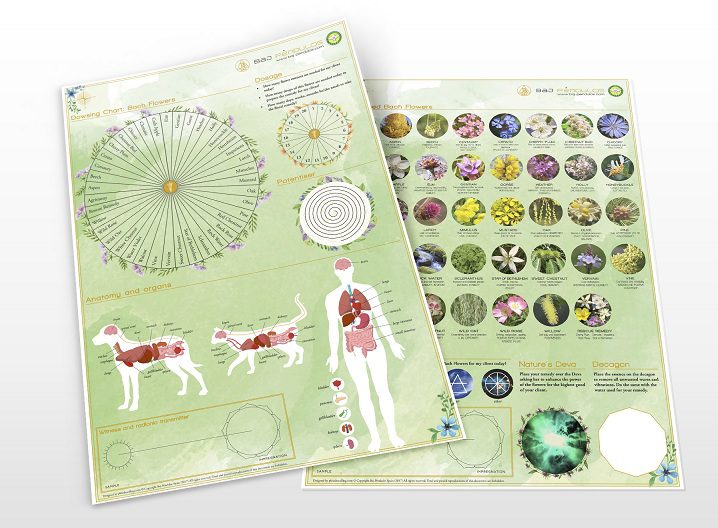 Pendulums and attunements associated with this chart:  Bach flowers pendulum, Karnak Black.  The Etheric Bach Flowers Attunement
Product details: 
Double poster in PDF format offered in 2 possible printing formats: ANSI B (USA), and A3 (Europe) both in the same download link. Plus an instructional Manual to help you make the best use of this chart.
This purchase allows you to print this Dowsing chart poster ONLY for your private use or healing practice. Not for distributing to others or copying it or resales etc. Please respect our work thank you.
Once making the Paypal payment, you will be redirected back to this page where you can see 3 download links. Click on them to download your files. If you have any difficulty due to technological glitches please write to us, we are very responsive and will help you and send you manually the chart via email. Also, remember to WRITE CORRECTLY your email or else the confirmation email will reach someone else or be lost in cyberspace!.
Legal Notice:The purchase of all of our Dowsing charts in pdf, implies the conscious acceptance that you will not copy/share/sell/distribute this material in pdf, photo, video or any other format, nor print physical copies for selling/distribution/teaching purposes through any mechanical, photographic, or electronic process for public or private use without prior written permission from Baj Pendulos Spain. Thus, when you purchase this chart you may print a copy for your own PRIVATE USE exclusively.
Designed by pleaiadescalling.com © Baj-Péndulos Spain (2017).