Description
The figure of the Inner Critic is an internal force that can wreak havoc within us, especially when we allow it to occupy the pilot's seat of our human ship. When this happens, we live trapped in the prison of judgments, criticism of ourselves and others, blocking many of the positive and constructive actions that can lead us to achieve our best goals, dreams, desires, objectives.
Being able to work to identify the inner Critic and discover how it takes over us, hijacking even our inner gifts, talents and resources, is very important if we want to grow in sovereignty and freedom, developing our Psyche in such a way that the true driver of our vehicle intern can take his place.
Working to get to know the inner Critic and his strategies, we help ourselves on the path of Consciousness, Awakening, Liberation.
The approach that we propose in this document is an analysis of the Inner Critic in order to allow us to better identify it in ourselves and in our clients and offer in the following pages of the manual a profile of the Inner Critic obtained through a series of questions that will help us later in our dowsing and/or bioenergetic session.
Finally, we address a series of possible solutions to help us from bioenergy and dowsing to work on this issue for our greatest good and that of our clients.
We can use this manual as an exclusive approach in a monographic session dedicated to analyzing our client's Inner Critic or use this protocol occasionally in other types of sessions when internal criticism appears in isolation as a determining condition in our session.
This manual complements very well with the following manuals:
Dowsing sheet chart
The Manual is accompanied by a dowsing sheet in A3 format and Ansi format B in PDF in English with graphics that allow us to navigate through the protocol and the profile of the Internal Critic of the client analyzed.
VIDEO AUDIO PRESENTATION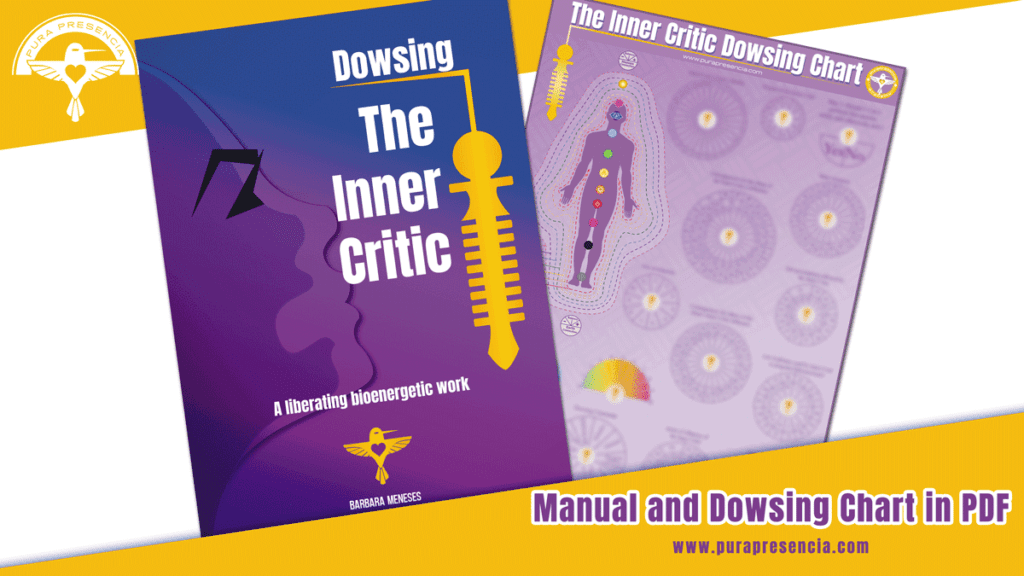 PRODUCT DETAILS
Manual PDF, English format A6 pages 81
Dowsing sheet PDF, Spanish formats A3 and Ansi Format B
Copy only for the buyer. Do not contribute to the piracy of our material, thank you for your integrity.