Description
Anhata, the heart chakra, Manual with Protocol and dowsing sheet in English PDF
A dowsing manual focused on subtle energy work with the heart chakra, the energy vortex at the center of the chakra system in both human and animal (and even planetary) subtle anatomy.
In the manual we address the main dynamics connected to the Anahata, the heart chakra in such a way that we can help ourselves to identify possible blockages and/or imbalances in this center affecting the areas of our life connected to the heart.
Due to the importance of this center, and the associated organs by correspondence (the heart and the lungs) we can say that everything in our life can have a direct impact on this energy center and vice versa.
This manual is not a dowsing course. We understand that the dowser who works with him already knows how to carry out a session for himself and/or others in the safest way following his own methodology. Among our courses, our Level 1 and 2 of the Online Course of Mental Dowsing, vibration and healing with pendulums lay the great foundations of the work that can be done with this manual and all our documents and dowsing proposals.
This manual is part of a series of documents focused on working in dowsing with each of the seven chakras of the subtle anatomy of the human being and that can be found in our Manuals section.
Ideal pendulums for this manual
In the manual we have offered a list of suitable pendulums from the Baj-Pendulos and Pura Presencia collections.
Specifically, we have expressly created the Heart Chakra Pendulum of Pura Presencia to work with this manual.
Audio-video presentation
Recommended for the following Dowsing Practitioner level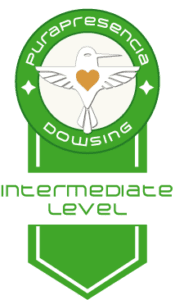 In our classification of practitioner level,we recommend this manualfor intermediate, intermediate-advance and advance levels. You may learn more about our classification of levels HERE.
PRODUCT DETAILS
PDF Manual in English pages 86 in A6 format
Dowsing sheet chart in PDF English formats A3 and Ansi Format B
Copy for 1 buyer only thanks for your integrity